The satellite applications sector delivers a wide range of social, environmental as well as economic benefits to citizens of Europe and the world.
Despite the many successful examples of use of satellite-based services at the regional and local levels, and despite the programmes implemented at local and European scales to make available funds to develop commercial services increasingly sophisticated, satellite-based services are still considered as "innovation" rather than "practice".
Satellites offer reliable and objective information on soil, air, water, vegetation, and assets, which can be compared over time. This increases the amount and quality of data that decision-makers need to take informed decisions as well as to implement sustainable development strategies.
In the energy domain, as example, markets trends show an increasing demand from both public and private entities of satellite-based solutions to decrease carbon emissions and enable green energy solutions, in line with the European Green Deal objective of the EU to become the first climate neutral continent by 2050.
Our workshop
The workshop is an e-shape labeled event and will present some of the project's pilots related to energy, climate change, and environmental protection.
The first day of the workshop will set the stage by introducing the audience to EO markets trends and the potential of satellite applications for the use and benefit of specific user categories in Poland.
The second day will be dedicated to the presentation of e-shape pilot projects, which will coupled with presentations from local actors (public administrations and/or private companies) using or willing to use EO-based services.
The Q&A sessions will engage speakers and audience in a discussion about the usability of the pilots services presented and their relevance for the needs of public administrations and private companies in Poland.
Objectives
The workshop will:
Introduce EO-based applications developed through the project within the selected e-shape 7 thematic showcases among Agriculture, Health, Energy, Ecosystem, Water resources, Disaster Resilience, and Climate;
Discuss the integration of the EO-based applications into user organisations' daily workflows;
Bring together research, user communities and civil society that want to benefit from  and contribute to the EuroGEO initiative;
Inform the participants about what the pilot services will grant access to in terms of Copernicus data and benefits for user organisations;
Foster discussions and exchange about opportunities and challenges with new potential users of EO-based applications;
Inject knowledge exchanges on co-design methodologies to develop the operational uptake of mature EO-based services.
Satellite Earth Observation in Poland
Earth monitoring with the use of satellites is currently one of the most important directions in the space sector. Creating repositories of satellite data and observing our planet in almost real time give us access to data and knowledge, thanks to which it is possible to better plan and react quickly, for example in crisis situations. Satellite images make it possible to better understand phenomena on Earth and learn about hard-to-reach places.
The use of satellite data on a national and European scale is constantly increasing. In Poland, many of entities, both enterprises and research institutes, implement R&D projects that show what knowledge we can obtain thanks to these data. Lots of commercial projects are also implemented. The competence in the implementation of observation data collection and processing systems, such as the Sat4envi platform or the commercial CREODIAS platform, is also important.
The analysis of satellite data provided by Polish entities supports monitoring of important variables for the Polish society, such as the level of air pollution or the forecasted yields from individual crops. Satellite data is also used by public administrations at the local and national levels. An example is the development of an orthophotomap based on data from the Sentinel-2 satellite, or a map of the land cover changes in Poland.
However, the use of satellite data in public administrations is not a common phenomenon. Experts in Poland indicate that, in order for this type of data to enter everyday use, and in order for public managers to fully enjoy the benefits of using them, it is necessary to discuss, educate and implement pilot projects in consultation with the potential users and in response to their needs.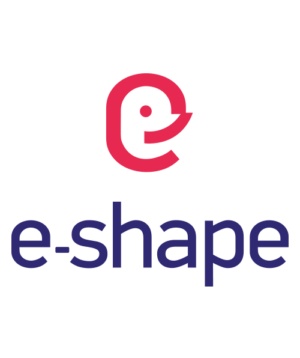 About e-shape
e-shape is a 48-month project under the framework of Horizon 2020 and constituted by a pan-European team of academic, industrial, institutional and user communities.
It is a unique initiative that brings together decades of public investment in Earth Observation and in cloud capabilities into services for the decision-makers, the citizens, the industry, and the researchers.
It allows Europe to position itself as a global force in Earth observation by leveraging Copernicus, making use of existing European capacities, and improving user uptake of data from GEO assets.