Online workshop, February 16th, 2022, 15:00-18:00 CET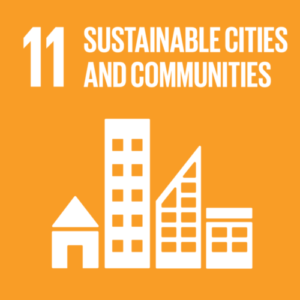 Sustainable Development Goal 11, i.e. the urban SDG, aims to make cities and human settlements inclusive, safe, resilient and sustainable. At the same time, the UN-Habitat's New Urban Agenda (NUA) recognises the increasing role cities hold in the implementation and localisation of the SDGs, in an integrated manner.
City administrations, urban planners and even national/regional governments increasingly strive to balance development needs with the objectives of the aforementioned policies, as well as local prioritisations, both in everyday operational activities and long-term planning.
The new paradigm offered by the Earth Observation (EO) domain, brings open, reliable, timely and continuous/sustainable sources of information for supporting and ultimately achieving Goal 11 and related urban issues.
Many existing examples from local and regional authorities advocate for the usefulness of integrating EO data into decision making, to plan, implement and monitor policies.
These development focus on SDG monitoring and on the use of EO to respond to specific urban needs.
To tap the full potential of Earth observations, the stakeholders involved, including public administrations, GIS offices, international organisations, NGOs, Academia, and commercial companies, must be made aware of the tools/data created by EO, of how to access and utilise them operationally, and of the unique advantages EO brings, such as the geographic disaggregation of information or the identification of hot-spots, exemplified through urban implementations spanning the globe while allowing for local particularities.
Our Workshop

This workshop aims at discussing the potential uses of EO to achieve and monitor the Sustainable Development Goals in cities.
The workshop will introduce the audience to the newly released Earth Observations Toolkit for Sustainable Cities and Human Settlements. The EO Toolkit was created to establish a reference/starting point for the stakeholders interested in utilising EO for their urban needs, providing a robust compilation of EO data, tools and the detailed guidelines to use these.
Two use cases from the Toolkit will be showcased by local and regional administrations, who will explain how they themselves use the Toolkit to monitor their progresses towards urban sustainability, focusing in particular on SDG 11 and how EO is integrated in daily and planning routines.
Following, the workshop will deliver a hands-on introduction on available tools and platforms to use and access EO data for cities.
The audience will be actively involved in the workshop, and will be engaged into Q&A sessions and live surveys to provide feedback on the presented contents.
Objectives
Raise awareness about the potential of EO to reach and monitor progress towards the Sustainable Development Goals.
Inform local and regional public administrations and stakeholders about the EO. Toolkit for Sustainable Cities and Human Settlements.
Generate knowledge and dialogue on EO in support of SDG 11 and the New Urban Agenda.
Discuss replicability of the use cases/tools presented and foster exchanges among confirmed and potential city-users of EO to support sustainable development.
Create links among local communities, cities, national agencies, and EO experts.
Collect feedback on accessibility, relevancy and ease-of-use of the Toolkit and the portals/services presented, identify challenges and opportunities.
Target audiences
Local and regional administrations dealing with urban sustainability.
NGOs, associations, private companies, academia and research centres working towards sustainability at the regional and local scales.
Decision-makers and policy-makers at all levels.
Interested organisations and individuals.
Partners/ Supporting entities