News and activities
Connect

by

CNES: NewSpace responds to major territorial challenges
21 September 2023, 9:00 – 22:00 CET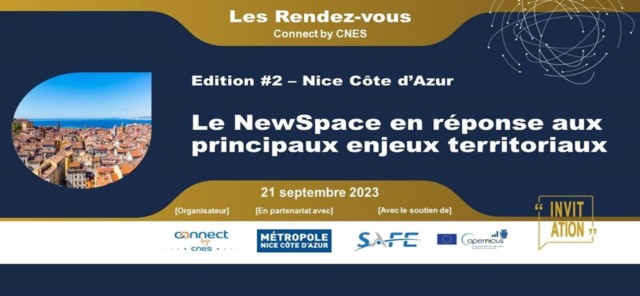 Would you like to discover the potential of space-derived services and data for the operational missions of your institution or local authority? Whether your activity is linked to urban planning, technical services, ISD/GIS, risk management and security or any other relevant operational department, you are most certainly concerned.
Earth observation: regional planning, water resource management, air and water pollution, urban planning, heat island management…
Telecommunications: global connectivity in white zones, solutions for connected objects, managing the digital divide…
Geolocation / Navigation (GNSS): Fleet management, HR and equipment, participative solutions, guiding users to points of interest…
This event was designed specifically for local authorities and associated structures by Connect By Cnes in partnership with the Nice Côte d'Azur Metropolis and with the support of SAFE Cluster.
The aim of this event is to present how earth observation data is used in France. It will also provide an opportunity to present the AppliSat initiative, which brings together the national community of public-sector users of spatial data.
One of the main goals of the event is to show local players how space can help them meet five new challenges: monitoring urban tree growth, managing isolated sensors related to the environment or other issues, assessing the risk of collapsing buildings, detection of litter, help with water resource management.
For more information, visit this link.
---
To register, please click here
---
Copernicus Connection launch event
3 July 2023, 11 am – 12 pm CET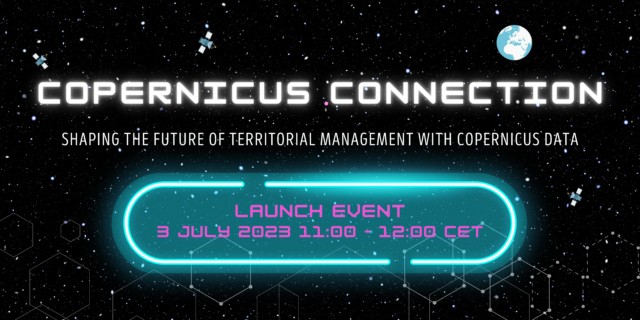 Don't miss the chance to know how you can profit from the Copernicus Connection!
The launch event of the Copernicus Connection project will present the objectives, activities and partners of the project to public and private organisations and explain how these can profit from it.
---
To register, click here
---
AGENDA
Chair: Grazia Fiore, Eurisy
11:00 – 11:15  Welcome and introductions
11:15 – 11:50  Presentation of the actions by the project partners 
11:30 – 11:35 Q&A
11:50 – 11:55 Q&A
11:55 – 12:00  Conclusions and wrap-up
---
This action is supported by the European Union's Caroline Herschel Framework Partnership Agreement on Copernicus User Uptake (FPCUP) under grant agreement No FPA 275/G/GRO/COPE/17/10042, 2021-2-13, Fostering the uptake of Copernicus by Local and Regional Authorities through user engagement and sharing of transnational experiences, SGA#20. The action is overseen by CNES in the frame of the "Connect-by-CNES" programme.