Earth Observation data and civil engineering: cost effective solutions for citizen's safety

The use of Earth Observation (EO) data in civil engineering is not common. Yet, something is changing. The availability of new data streams is slowly chipping away at the opposition of using new information sources in a field dominated by in-situ surveying practices. Even if some resistance still remains, especially in relation to cost-assessments from public authorities, the benefits deriving from the use of satellite technology in this field are leading to policies focused on citizen's safety in urban areas.
Italian SME Survey Lab with its expertise in development, distribution and promotion of EO data and geomatics based monitoring systems, took the opportunity of H2020 project I.MODI, to demonstrate the importance of integrating different data streams into the map-based products used by civil engineers.
Survey Lab Ltd. is a spin-off company from Italy's Sapienza University. Set up following an inside-out spin-off approach, Survey Lab's products are based on the University's research and development activities. This means that the spin-off is usually led by an "intrapreneur" – an academic figure who develops near-market solutions and identifies potential customers. Survey Lab was founded in 2008 by researchers of the Geodesy and Geomatics Section of the Civil, Environmental and Construction Engineering Department (DICEA). The team is composed mainly by Researchers and PhDs from the DICEA.
Survey Lab's core activity consists of developing geomatics monitoring systems based on advanced surveying and mapping technologies – including remote sensing data. As of 2012, Survey Lab is working on different projects with different institutional actors, such as the Italian Space Agency (ASI), or the Lazio Region.
Since March 2016, the Survey Lab team has been actively working on I.MODI (Implemented Monitoring System for Structural Displacement), a Horizon2020 funded project which ended in early 2018. Together with the Italian start-up D-Orbit, which develops space debris de-orbiting solutions, Survey Lab has been one of the few Italian Start-ups to have been financed through this call and the only SME in the Lazio Region to be selected.
The whole project focused on using EO data to create better mapping products for building monitoring and assessment. It also aimed at exploiting business opportunities generated by the increased demand for monitoring systems to control the stability of buildings and civilian infrastructures. The products were created by integrating EO data collected from Sentinel-1, COSMO-SkyMed, European Space Agency SAR archives and EnviSat satellites, and combining it with ground-based information. The team used the data to monitor soil and building deformations and prepare user-friendly damage assessment reports.
To obtain high quality data, Survey Lab set up collaborations with Italian service providers E-GEOS, Planetek and the Italian Institute for Electromagnetic Sensing of the Environment (CNR- IREA). Such partnerships helped Survey Lab obtain up-to-date and reliable Earth Observation data.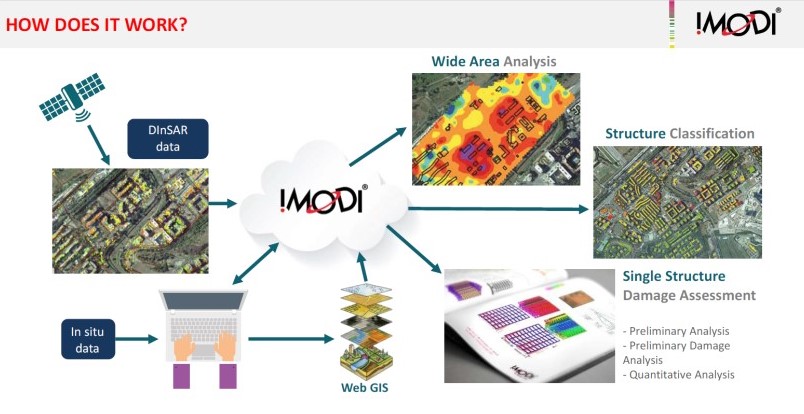 The products resulting from I.MODI were mostly used to support institutional users and stakeholders. These included the Italian National Autonomous Roads Corporation (ANAS), the European Gravitational Observatory (EGO), the Italian Ministry for Infrastructures, the Business Incubation Centre of Lazio Region, the Aerospace Research Centre at Sapienza University (CRAS), the European Space Agency (ESA), the Italian Space Agency (ASI), and finally the Municipality of Rome and in particular the Civil Protection Department of the City.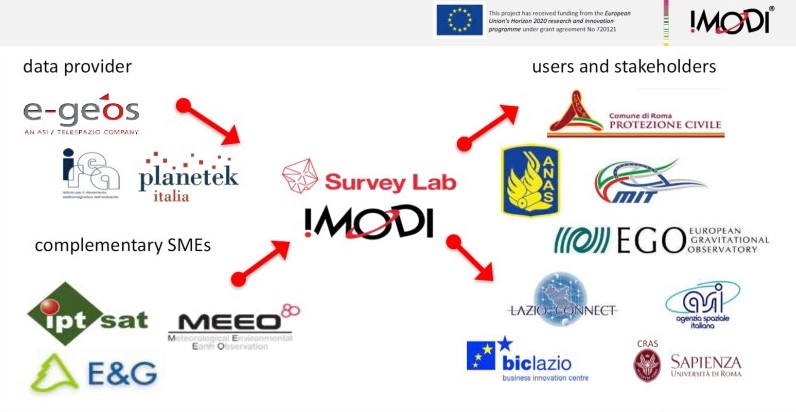 This partnership led to interesting discoveries when monitoring Rome's 5th district (V Municipio) buildings. The area, situated in the South-East of the city, has been selected as a case study due to the particularity of its underground cave systems. Due to these cavities, buildings in the area are now becoming unstable. Satellite data analysis collected over the years, offered a useful support for putting together a medium/long term evaluation of existing and future risks. The data was also helpful to create coherent maps covering urban municipal areas where risks related to the stability of the buildings and infrastructures have been identified.
Thanks to I.MODI, Rome had become the first city in Italy to integrate Earth Observation data for urban risk assessment and hydro-geological analysis support. This activity was carried out up to the latest municipal elections. Following the elections, changes in the administration's personnel have affected the project's continuation, bringing it to a halt, despite its successful results.
I.MODI showed the importance of investing more in new technologies. It also confirmed that Earth Observation data can be a reliable tool providing important socio-economic returns. Allocating funds for services or measures aimed at reinforcing the safety of civilian infrastructures is essential. Yet, beyond ensuring budget lines availability, a seamless project transfer between changing public administrations is equally important to ensure the operational sustainability of EO based products.