Aleppo: When Satellite Imagery becomes a powerful communication tool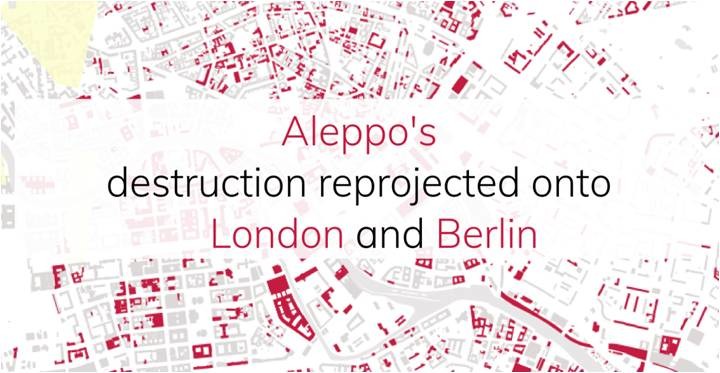 Hans Hack
Hans Hack is a sata visualiser, mapmaker and artist with a background in Heritage Conservation. Hans works with JavaScript, open data sources and whatever might come handy to tell stories. Based in Berlin, he works for museums, foundations, newspapers, NGOs, graphic design studios, and artists.
The satellite solution
Maps are quite a powerful tool to communicate on research findings to the general public. Satellite Imagery can serve as a basis for data visualisation, challenge our perspectives and stimulate reflection on our world. Hans Hack uses aerial or satellite images as a first layer for many of his artistic or graphic projects. As an example, in the Alpen project, he took satellite images of cities that are mainly flat, like Berlin, London, Hamburg, and Brussels, and then modified them to exaggerate their heights. In these 3D city maps, all elevation data has been hugely increased in scale to give users the perception of how their cities would look like on hills or mountains.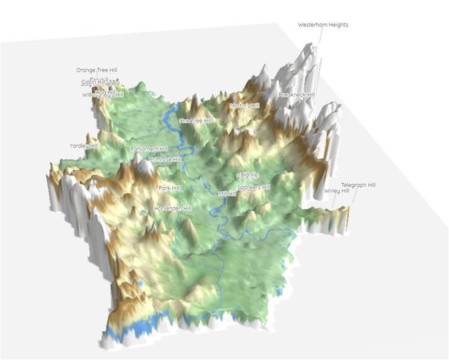 An exaggerated view of London heights
The initiative "Reprojected Destruction"
"Reprojected Destruction" is a data visualisation project realised by Hans that relies on satellite imagery to sensitise the public to the damages suffered by the city of Alepo. For this project, the artist found inspiration in a satellite-based map published by the United Nations Operational Satellite Applications Programme (UNOSAT) of the United Nations Institute for Training and Research (UNITAR). The satellite-based map of Aleppo was created between November 2010 and September 2016. The images in the map showed the percentage of buildings damaged in the area since the beginning of the Syrian war. In six years, more than 40%, a total of 33.521 structures, have been damaged as an outcome of the war. As a geographical reference point, Hans superposed the Citadel of Aleppo on that of the Museum Island in Berlin and the Tower of London. He then showcased the re-projected percentage of destruction on some randomly selected buildings.
In Hans' London map, the Tower of London, the City Hall, the Palace of Westminster, Buckingham Palace, the Olympic Stadium, King's Cross station, and Tate Modern were razed, while Camden, Islington, Dalston and Hampstead were decimated.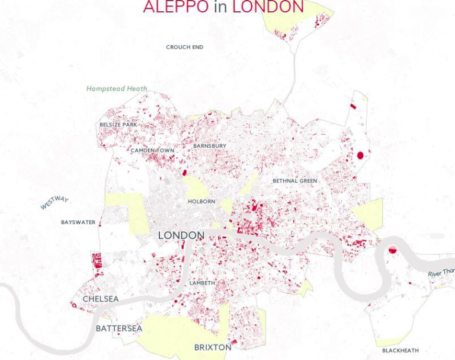 The Reprojected Destruction Map of Aleppo in London 
Future developments
In the future Hans Hack plans to continue using satellite imagery for data visualisation projects, while he is also getting interested in the possibilities offered by artificial intelligence and machine learning.
"What is important to me is to use technology to sensitise people on issues that I believe are relevant to understand today's world" (Hans Hack)