MedAssist Live: Providing medical support on the high seas thanks to satellite communications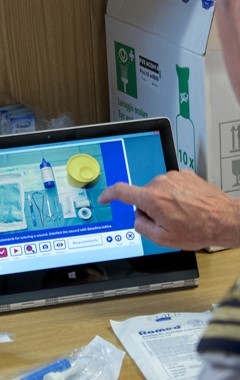 The Dutch MedAssist Live application is a two-way Augmented Reality solution  to provide assistance in case of a medical emergency at sea, allowing crew members to provide better care, to save lives and to optimise time and resources.
MedAssist.online

MedAssist.online is a Dutch company founded in 2015 based in the Port of Rotterdam. Its mission is to provide the best possible medical care to people in areas where medical assistance is not available. Originally, the company provided exclusively physical medical training to maritime officers and captains, and it then moved towards a more innovative path to support vessel crews.
The Challenge
Providing medical support to people in remote areas is very challenging. Telemedicine has proved to be a game-changer in multiple occasions, especially during medical emergencies at sea. Ship crews can spend weeks far out at sea, often thousands of miles away from the nearest shore. At sea, medical emergencies happen daily, and regular ships have no doctor on board.
Just in Europe, every year there are on average 21.000 telemedicine consultations at sea, and this number is constantly increasing. Depending on the medical need, vessels are often forced to change their plans, diverting their course, and extending the duration of their trip. To provide crews with better and faster care, an additional telemedicine tool was needed.
The Satellite Solution
The  meets the need of ship crews to get medical assistance at any moment and anywhere. It relies on satellite communication and a patented Two-Ways-Augmented-Reality (TWAR) technology. The Live App is available for download on any mobile device on Play Store and App Store. Satellite ship-to-shore-to-ship communication provides an essential feature to make the Live app work at sea. With support from ESA and the Netherlands Space Office, the TWAR technology (with two-way audio/video feed) was optimised for reliable use over satellite connections. Once they download the app, users can create their profile and require live assistance. They can also access tutorials or create new ones in case of specific accidents. Using TWAR, the application combines two video feeds — from and to the ship and the doctor — into one identical 'shared reality', visible to both the doctor and the ship's officer.

Unlike in usual video calls, participants can work together from the same perspective. TWAR allows the medical professional to instruct, point out, guide and coach the ship's officer as if the two were physically in the same place: they can examine and treat a patient as if the doctor were on board, or the doctor can show to the officer what to do. The officers on board will see the hands of the doctor superimposed on their owns on the screen and will be guided in their movements live.
The results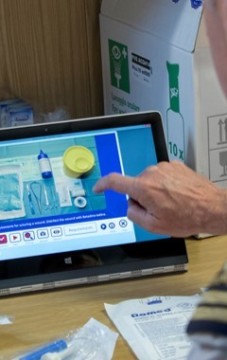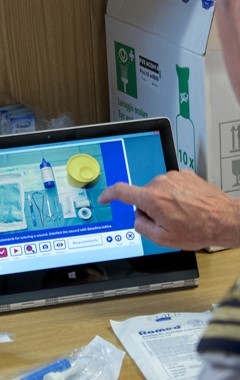 The Live App helps crews or people in remote locations to get the best possible medical care anytime and anywhere. It also reduces the human and financial costs of medical emergencies at sea.
The app has been tested by both KLM and onshore medical staff and has already been positively evaluated by several shipping companies. Currently, the app is being used all over Europe, especially by Dutch and German shipping companies. Soon, it will be also available for users in Asia and America. Considering the importance of providing medical assistance to people in remote areas, the team at MedAssist is planning to tailor the app for other contexts, such as rural areas, where connectivity still represents a challenge.