Port-la-Nouvelle: satellite data to monitor water turbidity during the port extension works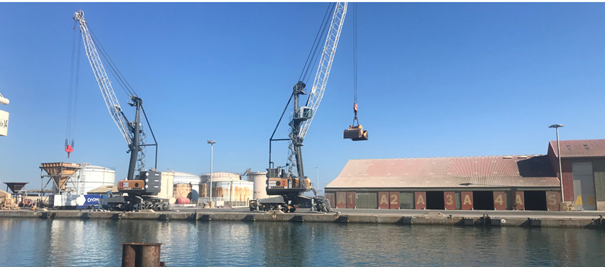 Port-la-Nouvelle
Port-la-Nouvelle is a French town in the Occitanie region, in the south of France, on the Mediterranean coast.
The historic port of Port-la-Nouvelle extends over 2.5 kilometres, and it represents a major economic asset in the area. Owned by the Region, it includes a commercial port, a fishing harbour, and a marina. The Chamber of Commerce of Aude is responsible for its daily management. This commercial port has historically specialised in the import of oil and the export of cereals.
The challenge
In 2018, the Occitanie region decided to start important works to adapt the commercial port of Port-la-Nouvelle to new traffics and allow for the development of new sectors.
Notably, the regional plan foresees the installation of floating wind-turbines and the creation of a green hydrogen production plant as from 2024. These works are part of a regional policy that aims at combining the economic development of the region with the valorisation of its environment.
Carrying out the works around the harbour implied dredging, which could bring back to the surface sediments on the seafloor, hence endangering the marine environment and the natural areas nearby.
To guarantee that the port expansion works were carried out sustainably, the Directorate for the Sea needed a reliable water quality monitoring system in the area of the works.
The satellite solution
i-SEA- a company based in Aquitaine, supported the port authorities to monitor water turbidity nearby the works, by using data from the Sentinel-2 and Sentinel-3 Copernicus satellites. The satellites provided data on water turbidity in the past and the near future.
Before the works started, satellite imagery allowed I-SEA and the Region to better understand the hydro-sedimentary processes of the site of Port-la-Nouvelle. During the works, the data contributed to in-situ monitoring, by providing a big  picture of water turbidity levels and a forecast of the turbidity levels expected within the next three days.
The results
Thanks to the Copernicus data, it was possible to avoid damage to the nearby natural areas and to prevent the infiltration of a turbid plume in the nearby pond of Bages Sigean.
The predictive method provided the personnel responsible the works in the Region with daily objective tools to monitor the impact of the expansion of the port on water turbidity and to adapt the works according to the forecasted turbidity levels.
In 2024, the commercial harbour of Port-la-Nouvelle will welcome the first floating wind turbines in the Mediterranean Sea. This operation is part of a regional strategy to achieve sustainable development in the littoral by using technology to boost the local economy, while safeguarding the environment.
"We do our best efforts to ensure that economic development is based on the safeguard and valorisation of the region's natural resources". Benjamin Grente, Directorate for the Sea, Occitanie Region.
READ THE FULL STORY: Monitoring water turbidity in Port la Nouvelle