Using EO and crowdsourcing to respond to today's global challenges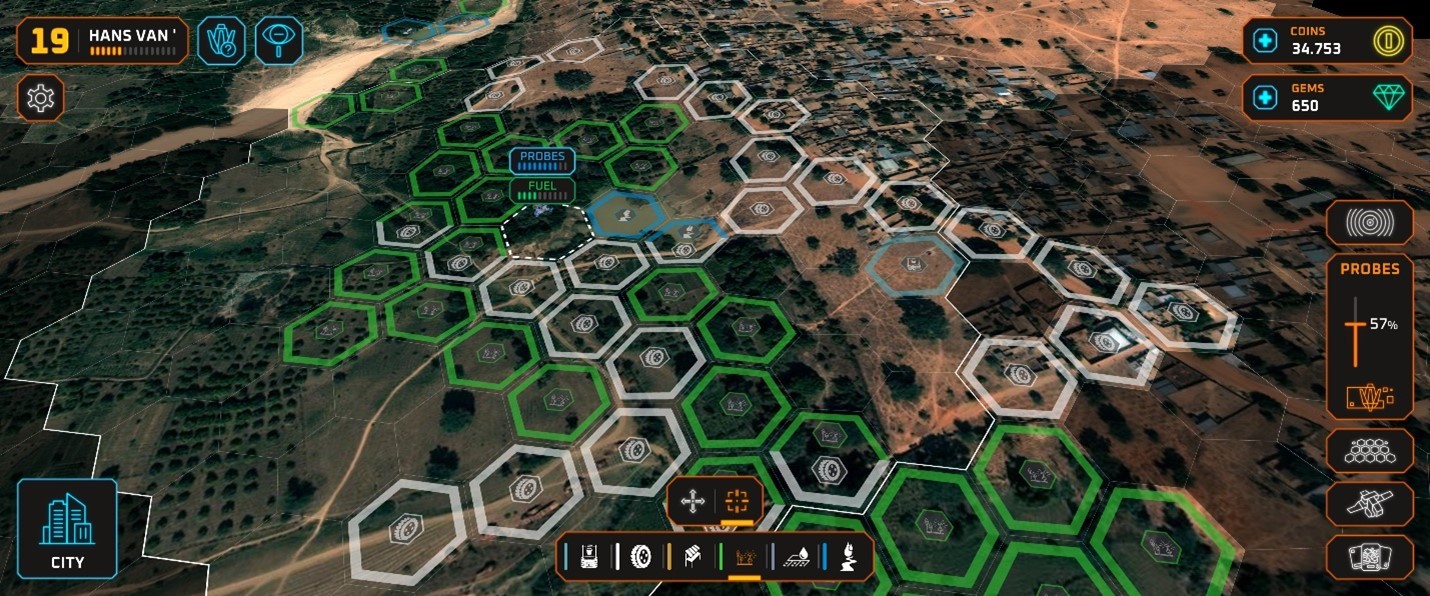 BlackShore
BlackShore is a company founded in 2011 by Hans van' t Woud and hosted by the ESA Business Incubation Centre in Noordwijk, the Netherlands. Currently, BlackShore delivers accurate, up-to-date and low-cost map products and data labels based on the crowd-sourced interpretation of satellite data and aerial imagery to map what matters most in the world.
The challenge
As the region of the world that is the most affected by water scarcity, Africa has such a growing population that about 230 million Africans are expected to face water scarcity, and approximately 460 million could be living in water-stressed areas by 2025 [1].
Recognised as a human right in 2010 and 2015, access to safe drinking water and sanitation remains fundamental to the lives of all human beings and the issue is at the heart of the 2030 Agenda for Sustainable Development [2].
Climate change exacerbates water scarcity, while also endangering the sustainable provision of food all over the world, including in the Mediterranean region. In this area, cereals and wheat are strategic products for agricultural development, food security, and agricultural trade.
However, and especially following the Ukrainian crisis, the cereal production deficit in the region could worsen in the next twenty years (Ukraine is one of the big cereal exporters to the region and in Middle East countries) [3].
To stay at the forefront of innovation, BlackShore decided to build an interactive platform which would combine e-learning, gaming and crowdsourcing to solve global issues, for example improving management of water and food.
The platform needed to create a playful and stimulating environment that would attract players and enable them to empower their skills while arousing their curiosity.
The solution
BlackShore developed Cerberus, an online gaming platform using very high resolution satellite images (currently down to 30-cm resolution data) to zoom in the surface of the Earth as a key resource.
The game teaches players how to identify and map pre-defined features such as obstructed roads, flooded zones, or clear-cut areas. Working with satellite images to make useful operational maps for organisations such as governments, urban planners or emergency services gives players a sense of purpose, in addition to being fun.
BlackShore uses a combination of commercial satellite data and open and free Sentinel data as a layer in their games. Players can navigate the surface of the Earth to spot, report and share relevant information.
BlackShore teaches players what to look for to map and tag in the hexagons. The inputs of players are compared to verify the accuracy of the information collected.
One of the games on Cerberus, "The path to a well", has been developed with the AKVO Foundation to favour access to drinking water in Mali.
Based in the Netherlands, the Foundation works on water-related issues in the African continent. In Mali, they worked with Uduma, an African NGO, to install water pumps within the framework of a project funded by the African Development Bank.
BlackShore helped the AKVO Foundation to acquire information on fresh water sources and to map the infrastructure between water source and communities, like farms or roads.
Players created two referable maps using very high-resolution satellite data in which they could detect objects of 50 centimetres to distinct walking paths from roads which can have vehicles. This information was later used to calculate travel times between water source and livelihood.
Another project hosted on the Cerberus platform and recently launched aims at mapping cereal production in the Mediterranean Region of Europe.
In a sequence of 20 maps, BlackShore will take up the crowd in a journey from east to west and ask them as a primary target to focus on Durum (pasta) cereals. Moreover, players will be also asked to map other crops, infrastructure and features based on the region of the Earth that they are zooming in. These include Lavender from the Provence, ruins in Greece, energy grids in Spain and mines in the Marche.
The project will measure the impact of climate change on durum cereal production in Italy, France, Spain, Greece and the Mediterranean islands.
To enable players to map cereal production, BlackShore has produced labelled training data to be used in conjunction with Sentinel-2 and (optionally) Sentinel-1 data down to a 30-centimetre resolution on the entire Mediterranean area.
Through the inputs of the players, the Artificial Intelligence model embedded in the game will progressively learn to distinguish crops in different environments autonomously and will generate data labels of the crops and infrastructure in the entire area.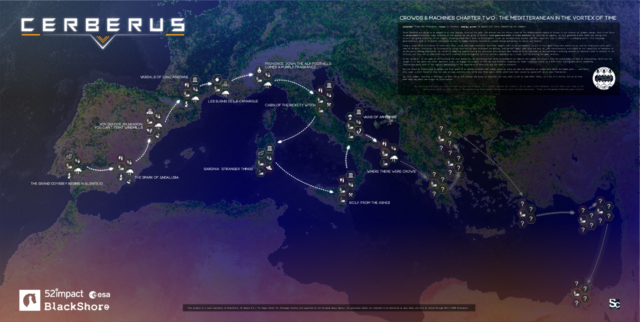 The project is a joint operation of BlackShore, 52 Impact B.V., and The Hague Center for Strategic Studies, and it is supported by the European Space Agency (The ESA Φ-lab).
The results
In Mali, the Cerberus' players mapped an area of approximately 10 square kilometres, detecting potential fresh water sources and providing data that were used by local actors to build and maintain water pumps.
For their new "mission" to map cereal production in the Mediterranean area, in 2022 only, BlackShore plans to create 20 maps of durum cereal crops using very high-resolution data and data labels for the different crops.
The maps generated through the game will be made openly available for researchers, NGOs, and governmental institutions to take measures to ensure food security.
Indeed, the project will generate a data label set allowing researchers to build models to automatically monitor how Durum cereals are affected in a changing world. This knowledge shall be used to better anticipate the effects of climate change on crops and to take measures to mitigate them. All generated labels will be also shared through ESA's AI4EO Initiative.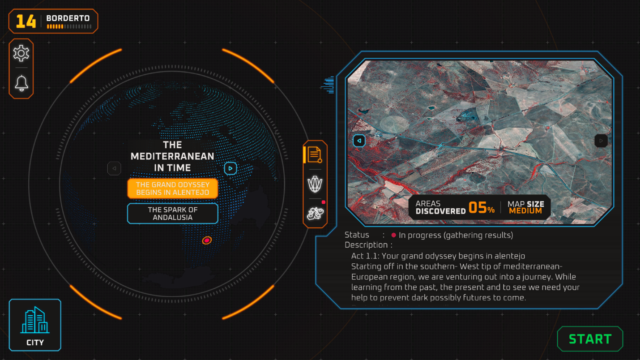 Currently, BlacksShore's Cerberus  community is about to overcome 100 000 players, based in almost every country of the world and ready to take action to contribute understanding and solving some of today's' most pressing issues.
Most players like playing BlackShore's games on their phones, but they can also be played on iPads and computers.
By combining satellite imagery and gaming, BlackShore is demonstrating that everyone can learn to identify features on satellite imagery if properly trained, and it is opening the path to innovative uses of EO to support the achievement of the Sustainable Development Goals.
REFERENCES
[1] The Africa Water Vision for 2025: Equitable and Sustainable Use of Water for Socioeconomic Development, UN Water/Africa. Accessed on 21 June 2022.
[2] UN World Water Development Report 2019: 'Leaving no one behind', 2019. Accessed on 19 June 2022.
[3] Food security: Challenges and perspectives in the Mediterranean region, PRIMA, 29 June 2022. Accessed on 10 June 2022.