The presentations of the e-shape Workshop in Malta are now online
Unlocking the potential of Earth Observation data for climate change and urban areas
24 February 2023, MCST Esplora Science Centre, Kalkara, Malta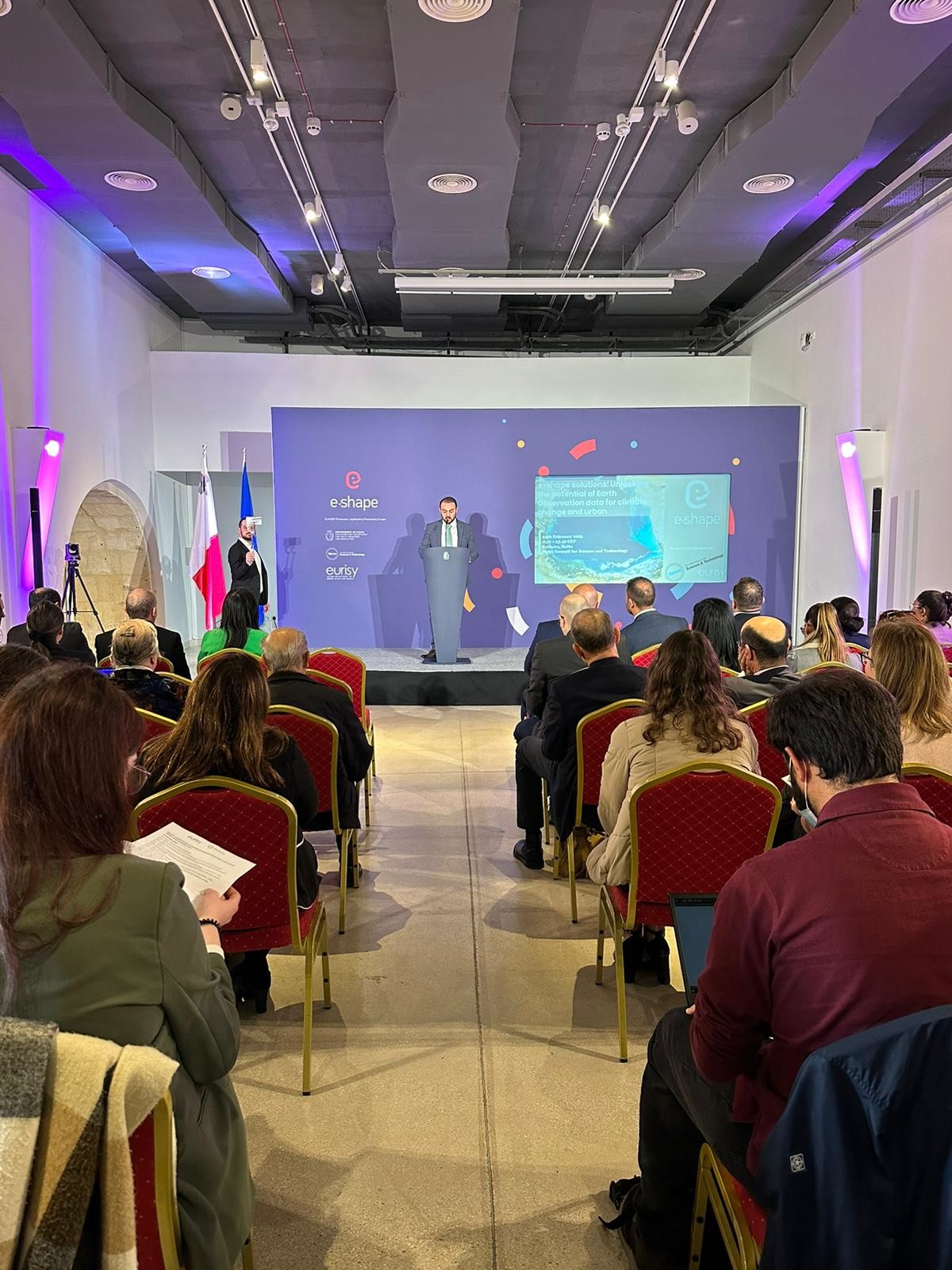 With 81 participants, including numerous representatives of the Maltese administration, academia and private sector, the e-shape workshop hosted on the 24th of February 2023 by the Malta Council for Science and Technology reached its goal to gather local stakeholders to discuss how to integrate the use of EO data to face climate change and better manage urban areas.
Hosted in the MCST Esplora Science Centre in Kalkara, the workshop included the participation of Silvio Scerri, CEO at the MCST, of Hon. Keith Azzopardi Tanti, Parliamentary Secretary for Youth, Research and Innovation at the Ministry of Education of Malta, and of Reinhard Blasi, from the European Union Agency for the Space Programme (EUSPA).
According to the words of Hon. Azzopardi Tanti, despite the numerous benefits that satellite Earth observation (EO) and satellite applications in general can deliver to a large range of communities, these solutions are still considered as technology demonstrators rather than as critical components of seamless information streams.
He also stressed the commitment of the Maltese Government to increase awareness of the possibilities offered by the space sector at large to enhance innovation and effectiveness of public administrations, create new business and increase skills and job opportunities in the country.
The workshop turned out to be a vibrant forum to showcase and discuss solutions developed within the e-shape project. The solutions presented rely on satellite Earth observation data to provide sub-seasonal and seasonal forecasts nearby touristic sites in the Mediterranean area, improve visibility underwater for divers, and monitor fishing activities.
European service providers also presented solutions based on EO that provide climate projections to European cities, and data to better understand the global carbon cycle or to better plan and exploit solar energy installations.
The presentations and the recordings of the workshop are now available. Click HERE to access them.