What we can learn from the Coronavirus crisis with satellite data

Corona is a family of viruses that might cause severe flu-like diseases. The newest discovery from that family has been named the Novel Corona Virus or the COVID-19. The World Health Organization declared the rapidly spreading outbreak of the virus a pandemic, as it has a global impact, disrupting social and economic activities alike. Measures are being taken and resources are allocated all over the world to counter this crisis. This article illustrates how space-enabled solutions contribute their share in the fight against this pandemic, and shows what satellite data tell us about the extraordinary situation.
Geographic Information Systems (GIS)
The geospatial community fulfils an important role in tracking the spread of the COVID-19 virus by constantly updating the number of affected people, and providing real-time data with GIS-driven spatial health information. In order to visualise and track the location and number of confirmed COVID-19 cases, deaths, and recoveries for all affected countries, there is a list of several interactive web-based dashboards. The dashboards rely on data from online platforms, social media, news services, and communications from regional, national and local health authorities, such as the Centre for Disease Prevention and Control in China, Europe and the United States. For more detailed information about the global outbreak, this Worldometer can be consulted.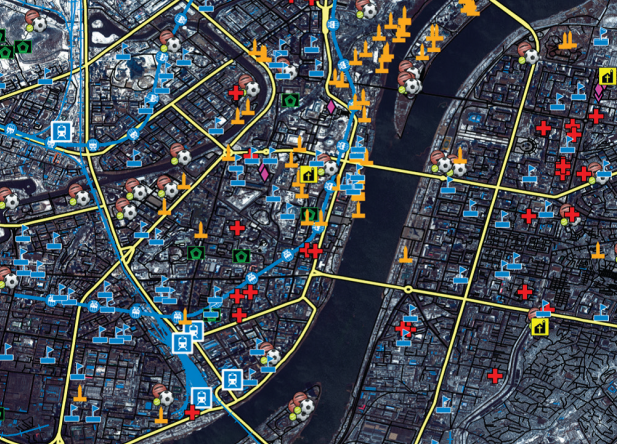 Most of the information data is generated locally, but once coupled with satellite imagery it makes an outstanding tool for situation awareness. For example, Maxar developed multi-layered Human Landscape data that is essential for disease modelling. The layers include medical facilities, demographic details, tourist attractions, cultural points of interest, roads, public transport hubs, and water infrastructure. By combining satellite imagery with thousands of open data sources, it creates a rich dataset of both geospatial and demographic data. This enables public administrations to see what is happening where and who is involved or impacted, in order to anticipate civilian needs, to enforce restrictive measures, to ensure safety in public spaces, and to better manage critical infrastructure in the times of crisis we are living.
Remote Sensing
Copernicus data showed how the coronavirus outbreak in China and Italy has prompted pollution to plummet, as nitrogen dioxide emissions have declined following nationwide quarantine measures. Never before have we measured a reduction in air pollution on such a size and in such a short period. The extreme improvement of air quality is, of course, the result of exceptional circumstances. However, it does show that the impact of human activities on the environment is huge. The Copernicus Atmosphere Monitoring Service (CAMS) combines satellite and ground-based observations to monitor air quality in Europe. This gives indications about human activities during the lockdown, as well as the effects of air quality (including pollens) on respiratory health.
Over China, the Copernicus Atmosphere Monitoring Service (CAMS) observed a major drop in emissions during February as factories were closed and streets were cleared.


Over Italy, Copernicus satellites have also shown a sharp decrease in emissions during the first months of 2020.


These data, showing the immediate impact of the reduction of traffic and other activities, definitely carry lessons that need to be considered once the crisis has been overcome. One can only hope that humanity will not be immune to rethink how people are moving around and how they are using fuels. This does not just apply to China or Italy, but also to the rest of Europe and other regions in the world.
Traffic may have been reduced drastically due to the strong measures taken by national governments, however, many European citizens are unable to travel back home, and trucks carrying medicine and essential goods are blocked. In order to get citizens, and medical facilities around Europe, everything they need, Copernicus images are also being used to monitor road activity and traffic congestion at borders between member states. Furthermore, the Copernicus Emergency Management Service has been activated in Italy to map critical temporary health facilities, field hospitals and gathering areas in order to have a clear understanding of the current situation of the territory during the emergency. The Copernicus Climate Change Service further demonstrates the versatility of Copernicus data with an application that maps mortalities against temperature and humidity data.

Satellite navigation
The widespread use of devices embedding satellite navigation proposes an alternative to the traditional face-to-face medical follow-up of patients, which is particularly relevant to tackle global public health emergencies.
In China, satellite technologies and space-based systems, especially the BeiDou Navigation Satellite System, have been crucial in coordinating and protecting all sectors of society against the highly contagious virus. From tracking patients' position to the monitoring of cargo transport, as well as using GNSS-guided drones for large-scale disinfection missions, satellite positioning has proven to be a major asset. In order to ensure all patients are effectively identified and treated, as well as to reduce the risk of cross-infection between patients and medical staff, a BeiDou GNSS-based social app (Wuhan Mini Neighbourhood) was launched on WeChat (the messaging app with the greatest number of users in China). By exploiting BeiDou's navigation and positioning capabilities, China was also able to dispatch more than 10 000 disinfection drones to perform nationwide aerial disinfectant spraying with centimetre-accuracy. Most of the drones originally served as agricultural sprayers, but traded pesticides for disinfectant fluid to prevent the further spread of the virus. Furthermore, the HaiGe Smart Epidemic Prevention Management Platform, a BeiDou-based system for health monitoring, provides a solution to mitigate the fears of employees about facing the Coronavirus during their commute to work. With the outdoor and indoor location history of patients, and by connecting the database of the infected persons with regional information, the platform is capable of displaying a real-time cartography of infectious disease locations.
The system can automatically adapt the travel route for users to avoid contagious areas. Due to transport restrictions, adapting routes is also something to consider for the delivery of medical supplies and daily necessities. A GNSS-based vehicle network guides the way for both regulators and drivers. Considering that satellite connection works in remote locations and allows for real-time communication with isolated drivers, China's transport management department equipped all vehicles to Wuhan with BeiDou mobile satellite positioning devices. Finally, indoor autonomous robots rely on satellite navigation for the contactless delivery missions to distribute medical supplies and groceries in the designated hospitals and local communities under quarantine.
In South Korea, a smart city technology system recreates the movements of confirmed COVID-19 cases, using data such as surveillance camera footage and credit card transactions. This new system allows data about confirmed COVID-19 patients to be immediately analysed by health investigators. Central and local administrations in South Korea are sending real-time alerts via text messages and apps about the number of confirmed cases, as well as the travel histories of those infected. The "self-quarantine safety protection" app, developed by the Ministry of the Interior and Safety, uses satellite navigation to make sure people are not breaking their quarantine.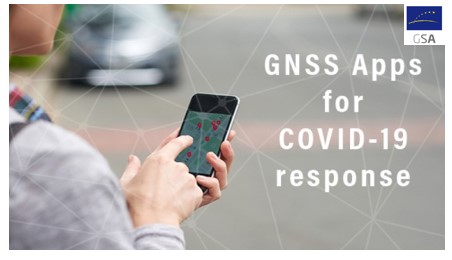 The approach of tapping into mobile location data to reconstruct the movements of coronavirus positive people and those who encountered them, has sparked concerns about privacy. In Europe, research teams are now considering less invasive ways to collect and share data about infections. To connect innovative ideas and to halt the pandemic, the European GNSS Agency (GSA) is calling for apps supporting authorities and citizens in the COVID-19 emergency response and recovery. It has also listed location GNSS Galileo based Applications that may be useful in response to the diffusion of COVID-19. In this so-called age of "surveillance capitalism", public concerns about the exploitation and abuse of data are high. However, both authorities and the public will have to weigh the value of privacy against the importance of collecting data that can help in saving lives.
Overcoming the crisis, and more?
Satellite data strikingly capture the immediate effect of change in human behaviour on the environment. GIS-driven spatial health information, remote sensing, telemedicine, satellite communication, and global navigation satellite systems, are playing a major role to counter the COVID-19 crisis, supporting a wide range of activities such as monitoring, diagnosis, screening, quarantine, treatment, disinfection operations, and transport. The European Space Agency is inviting more ideas to further pursue space-based activities delivering innovation and digitalisation for citizens and communities.
Space-based applications provide new alternative solutions to the classic in person doctor-patient meetings. Satellite communication and navigation support the eHealth trend. However, most national legal frameworks in Europe are ill adapted to the digitalisation of the health care sector. At a European level, there is a need for uniform norms to regulate telemedicine services, so to treat them as legal medical acts with equal access to reimbursement schemes.
Find out more about how the space sector responds to the pandemic:
For more initiatives around the world, check out the UNOOSA COVID-19 emergency response overview page facilitating the discovery of examples of contributions of space technologies.
WHO and its partners are seeking financing for protective equipment for frontline health workers; to equip diagnostic laboratories; improve surveillance and data collection; establish and maintain intensive care units; strengthen supply chains; accelerate research and development of vaccines and therapeutics; and take other critical steps to scale up the public health response to the pandemic. The COVID-19 Solidarity Response Fund, hosted by the UN Foundation (registered in the United States) and the Swiss Philanthropy Foundation (registered in Switzerland). Both foundations have established relationships with the World Health Organization, allowing for efficient transfer of financial resources to enable COVID-19 response efforts. Apart from giving online at www.COVID19ResponseFund.org, the UN Foundation can also receive donations via check or wire from around the world by contacting COVID19Fund@unfoundation.org.