Why make it simple when you can make it complicated (about end-user needs)

"[…] The fact that we can [talk to the end-users], in Europe, is perhaps our biggest competitive advantage in the face of much decried (by some) American competition, from the likes of Google and the rest. We – both public and private providers – can create European value-added services because we can talk to the end-users on the ground. We can find out what they need. And they need stuff. So we can insist on going beyond research, to create highly personalised solutions that rely both on Europe's impressive satellite infrastructure and on field knowledge."
There is one thing Eurisy really does well, and that is talking to the end-users!
No Eurisy conference is complete without first talking, actually talking, to the end-users in the region where we organise that event. Be it on the phone or face-to-face, when we can. Individually. We take hours to do just that. So Eurisy events are much more than just a list of speakers on a page. Eurisy events are responses to what we hear from the stakeholders. They are connected to the region we go to.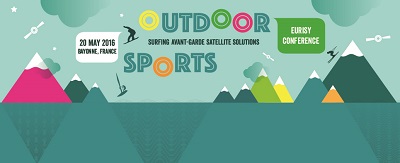 Take our next conference in Bayonne, France. It's called "Outdoor Sports: surfing avant-garde satellite solutions". Here is who we talked to, among end-users, and this even before the official launch (hang on, the list is long): the Sports Directorate of the Regional Authority (Département des Pyrénées-Atlantiques); EuroSIMA, the biggest European sports industry association, with members like Rip Curl and Quicksilver; all the sports federations in the region: hiking, biking, rafting, skiing, surfing, spelunking); rescue organisations, ski establishment associations. And so on (you get the idea).
What these conversations reveal is refreshing for those interested in the diffusion of satellite applications: the users are enthusiastic, curious, willing to try and to engage. Full of ideas. "We want information in real-time". "We want connectivity in the mountains". "We want to switch from paper maps to digitalfor forest hikes". "We want to warn all users when a log that can bump a raft over comes down the river". "We want to build outrigger canoes that can talk with their occupants and with the sea where they sail."
None of them have heard about Copernicus, Galileo, satcoms, or "satellite applications" as we, the space community, refer to them. But they are very quick to catch the drift: "Ah, you mean information, location, and connectivity. We need plenty of those!"
What is surprising, however, is even though talking to the end-users is so simple, and so direct, and so fruitful, not enough of that is being done by the space community at large. The focus is on complex issues, like making data accessible through complex hubs and structures, on how to remove cloud cover from satellite images and so on. A huge amount of energy and talent is dedicated to such issues. By all means, that MUST be done too. Without that, there is nothing for the end-users at all. But more effort should be carried out, on the ground, to talk to end-users and get new ideas from them.
The fact that we can do that, in Europe, is perhaps our biggest competitive advantage in the face of much decried (by some) American competition, of the likes of Google and the rest. We – both public and private providers – can create European value-added services because we can talk to the end-users on the ground. We can find out what they need. And they need stuff. So we can insist on going beyond research, to create highly personalised solutions that rely both on Europe's impressive satellite infrastructure and on knowledge from the field.