Climbing the value chain with satellite data

In times of the coronavirus pandemic, people are feeling safer to cycle rather than use crowded public transport. With ever more cyclists on the road equipped with smartphones, bike computers and smartwatches, the resulting space data and crowdsourced information not only lead to better routes but also to innovative solutions.
Improved mapping services
Beeline is a prime example of how satellite data can encourage more people to cycle leading to a positive impact on traffic congestion, pollution and health. During a Demonstration Project within the European Space Agency's Business Applications programme, the London-based company has developed a Bluetooth device and a mobile app allowing cyclists to easily use their smartphone location. Beeline provides a routing and mapping service enabling more pleasant rides for individual cyclists, or faster and safer tracks for bike sharing and delivery companies. Depending on the user's needs, the app considers sources such as road elevation maps derived from Earth observing satellites, as well as data on cycle infrastructure, or accident hotspots.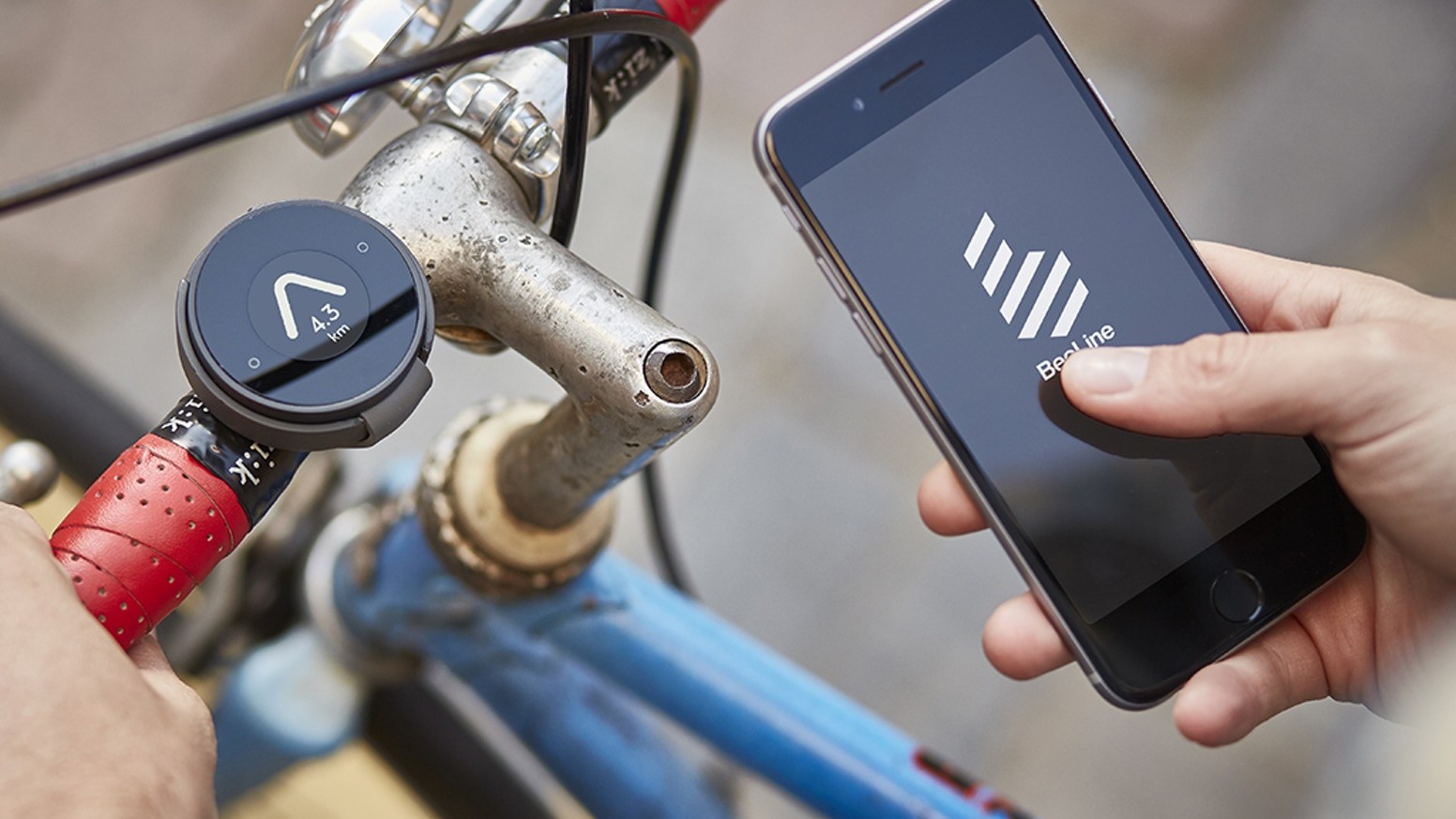 Another example is the Bike Citizens app which provides a smart route calculation feature, an option to record activities and collect individual data, as well as campaigns to motivate people to cycle. With this app, Bike Citizens builds a community and connects cyclists. The user base provides statistics and heatmaps which in turn helps to promote and enhance the cycling experience. Additionally, the app stimulates cycling through gamification, rewards, and by involving its users. The gathered information on how people cycle can be analysed to get new insights, for instance on the quality of roads, popular routes, as well as to detect untapped potential. The app helps cities and governments to better plan infrastructure and prioritise improvements, resulting in more cyclists in urban areas. Bike Citizens also participates in research projects such as climate-fit.city to gain a better understanding of how climate (e.g. heat waves, floods, pollution, etc.) affects cycling. It shows urban planners which areas of their cities need specific adaptations to improve their climate resilience. Reducing cyclists' sensitivities to weather and climate variability can play an important role in promoting cycling as a green mode of transportation.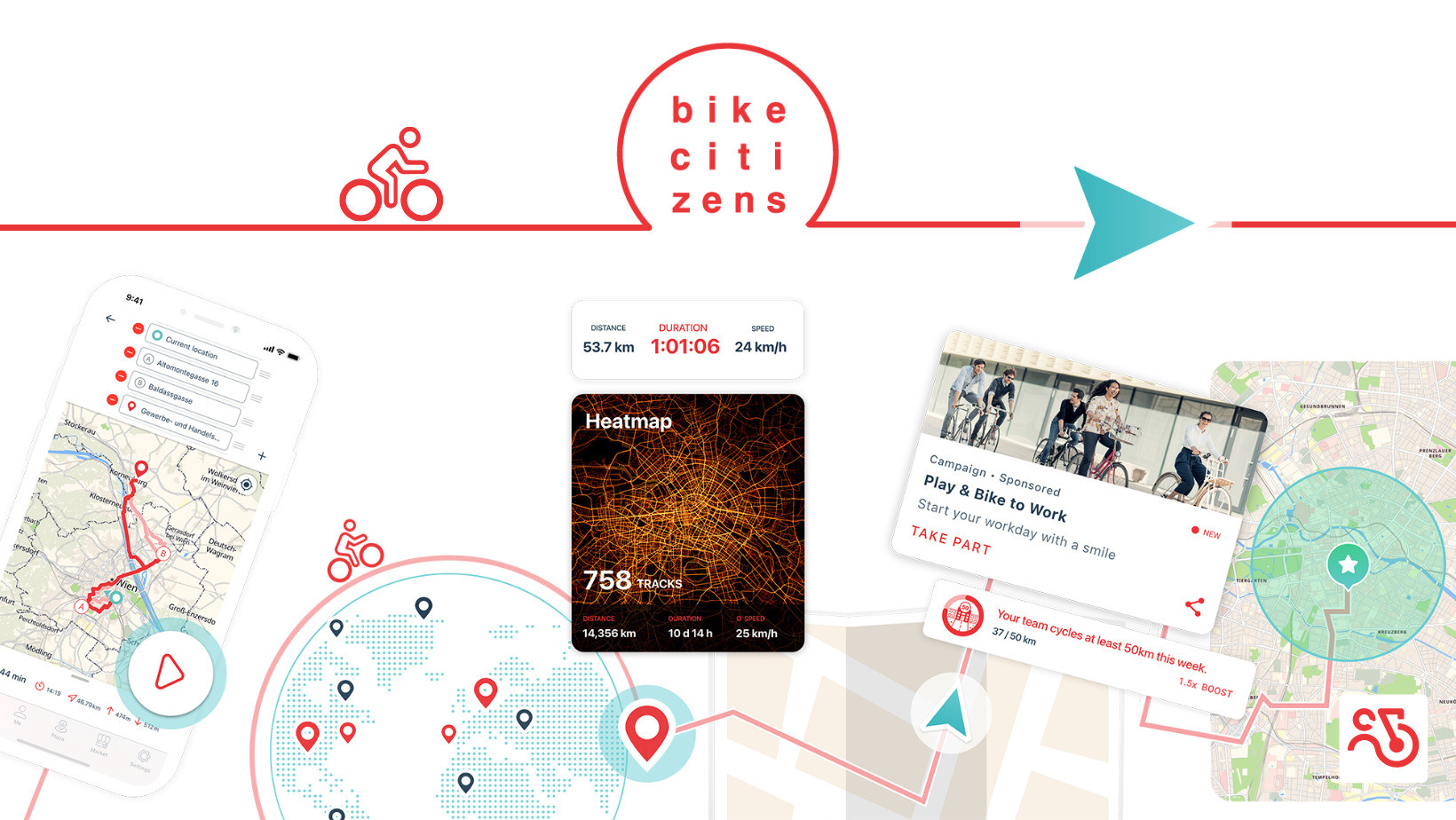 Apart from commuting to work, people are also considering the bike more often for a physical workout. Since the outbreak of the coronavirus, the use of fitness apps rose significantly. In the peloton of fitness-tracking apps, Strava is one of the most popular ones. This year, the ride logging and training platform hit 60 million users. Sports practitioners, amateur and professional, can upload their satellite navigation (GNSS) data recorded by a bike computer, smartwatch, or can even track their workout directly with the app on a smartphone. Once uploaded, users can view their activity on a standard or a satellite map, with satellite imagery sourced from DigitalGlobe, NASA, and Mapbox. Even amateurs nowadays ride with bike computers and sensors, allowing them to read various parameters such as power output in watts, heart rate, speed, and distance. The app enables athletes to dive in their data to compare previous efforts and optimise their training. It also stimulates people to stay active with all kinds of challenges as well as with the competitive element of segments, marking popular stretches of a road or trail (such as your favorite local climb) linked to a leaderboard of times set by every Strava athlete who has been there before.
Apart from performance measuring, the app also features a mapping tool to create routes. Satellite imagery allows users to preview the track so that they can filter out specific types of roads according to their preference. Furthermore, the social aspect of the app includes the option to share recorded activities with photos on a feed where friends and followers can give kudos and leave comments on each other's activities. As a social network for athletes with most features relying on satellite data, the app is an excellent example of how we benefit from space technology in everyday life. The app has always been free, although features such as the route builder, training analysis and complete leaderboards have been restricted to paying subscribers only. Earlier this year, the developers released an open letter explaining their decision. "We think that $5 a month for Strava is money well spent. But we also know, especially lately, that there are athletes struggling to make ends meet and that the free version of Strava must remain high quality and useful." Despite the sanitary crisis, the shift towards a subscription model indicates the growing market for sports performance tracking.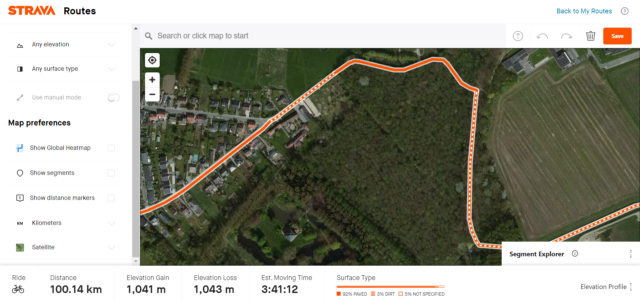 The data collected on fitness-tracking apps can be utilised for a number of purposes. Relive for example, generates 3D video stories of bike rides and runs using the data collected from its users' activity tracking apps, as well as their personal photographs. The app maps the GNSS data on satellite imagery from the ESRI World Imagery basemap, enabling athletes to share their rides via virtual 3D video tours. By combining performance tracking data with digital maps, Relive makes short 3D animation videos that exhibit the highlights from a cyclist's trek. The animation can include the route the athlete took with metrics such as terrain elevation, the length and average speed of the ride, and it can be combined with pop-ups of photographs taken during the activity. As such, athletes can share their outdoor adventures in a one-minute video.
An immersive indoor cycling experience
Cyclists are spending more time indoors than ever. According to the 2019 Year in Sport Data Report, virtual cycling technology adoption by cyclists has nearly tripled since 2016. As virtual riding platforms continue to grow, pedaling indoors has become a convenient way to stay fit all year round. It might be surprising, but also for these indoor rides satellite data makes a difference.
There are numerous platforms offering gamified virtual courses based on iconic roads and climbs like the Mont Ventoux or the Passo dello Stelvio. GNSS data enables the replication of exact gradients and road profiles of real-world locations. When paired with a smart trainer, the resistance changes based on the terrain, simulating the way you would feel if you were actually climbing it in the real world. Some apps offer a gamified virtual world, others aim to simulate the real world as much as possible with augmented reality. An example of an indoor cycling app offering a combination of virtual reconstruction, satellite imagery, and video footage is Rouvy. It integrates with Google Earth allowing users to create custom routes by selecting a start and then dropping points on the map, in a similar way as when using a mapping software to create routes for a GNSS-enabled bike computer, but users can also upload ride videos from an action camera like a GoPro and synchronise them with these routes.
The emerging trend of online racing is partly due to the ongoing global Covid-19 pandemic. With numerous races cancelled throughout the year, cycling organisations have played a major role in the rise of online racing. From the Tour of Flanders to the Tour of Swiss, major events turned towards the virtual alternative. This greatly increased the visibility of virtual cycling, leading the technology for a fun and immersive indoor cycling experience to go mainstream. As the pedal power of the athlete drives the scenic view on a screen, the technology combines social interaction with graphic elements for a realistic physical workout from home. More than any other year, this brings like-minded cyclists together.
Let's pedal to prove our mettle
Cycling has many benefits for society and our health, especially given the ongoing pandemic. It offers an important alternative for crowded public transport and a good way for some physical exercising, even from home. While satellite-based innovations continue to improve the cycling experience for those who venture through the real world, indoor rides are also becoming more realistic and effective thanks to satellite imagery and the widespread of GNSS wearables. Often without even realising it, people are connected with the infrastructure orbiting our planet. We all use satellite data, and a large part of it originates from the European space programme. Whether commuting to work or staying fit, satellite applications enable a better cycling experience both outdoors and indoors!
Our mission is to diffuse space-derived innovation. We are always on the lookout for information about operational satellite applications. Send us your success story and we might showcase it!
Stay up to date about the latest space solutions with our newsletter.