Satellites for Sports: Putting satellite data to the test on the golf course

In this episode of Satellites for Sports we explore satellite-enabled tools for golfers and golf course operators. Discover how satellite data can help golfers to improve their game and greenkeepers to better manage the turf!
Golf performance tracking
Measuring distance to the flag, bunkers, water or any other point on a golf course can be difficult and inaccurate with just the naked eye. Golfers desire insights, precise data and analytics to make better informed on-course decisions. While there is already a wide array of golf watches, club sensors, rangefinders, and other smart golf technology available on the market, using a combination of these different tools tends to be inefficient in terms of time and money.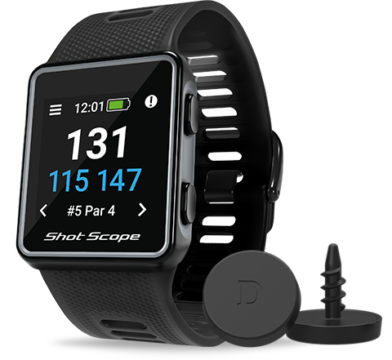 Shot Scope, a Scottish golf technology company, designs products and software to assist amateur and professional golfers. The Shot Scope team is currently working on a Demonstration Project within the ESA Business Applications programme to improve their smart wearable technology. As the company relies on satellite navigation and satellite imagery for its products, the involvement of ESA Business Applications represents a way to ensure the use of satellite data in a commercially sustainable way.
The Shot Scope's Technologies Data Intellect project aims to deliver a unique software solution for golfers to automatically collect accurate performance data. Shot Scope's newest performance tracking golf watch is an on-course device. It automatically collects  golf performance data during play with a mobile application that works in the background. As a result, golfers can have access to key insights (e.g. shot length, club use and strokes gained) to improve their strategy.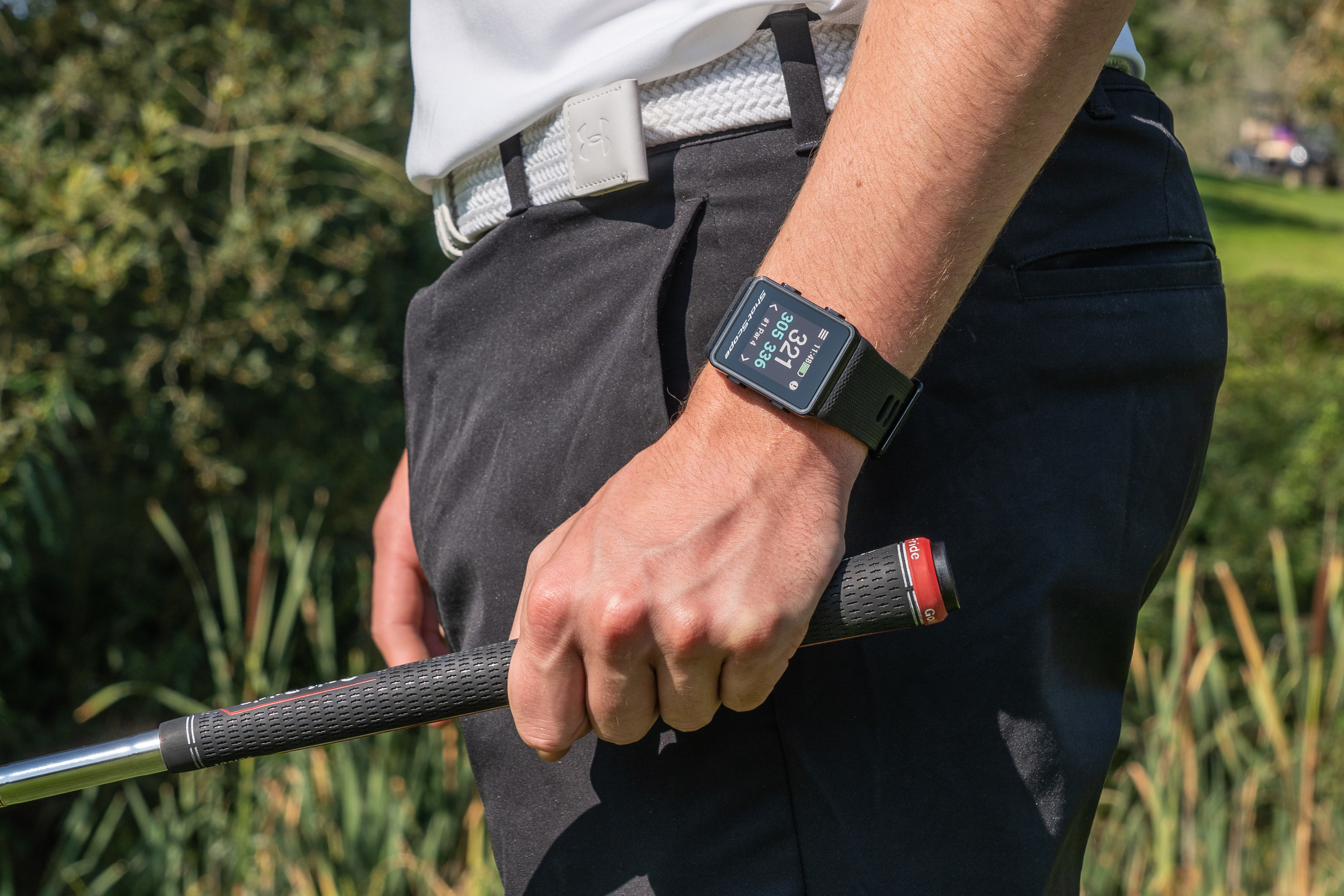 This performance tracking system uses a combination of electronic sensor technology and global positioning satellite technology (in particular GPS, Galileo and GLONASS).
A lot of information is coming through the shaft. Sensors tagged on golf clubs register the event of a shot and the club used to strike the ball. The resulting set of raw data (swing measurements, impact upon hitting the ball or the ground, putting, etc.) can then be linked with satellite navigation data to locate and qualify the different shots.
The data is processed against the Shot Scope's course database to select the course played and generate key statistics, analytics and insightful golf performance data on both a mobile application and an online dashboard.
Golfer can collect and review personal performance data to understand and improve their game. The technology can be further employed to generate engagement among different groups of golfers; friends and club members, or to benchmark personal statistics against professional golfers.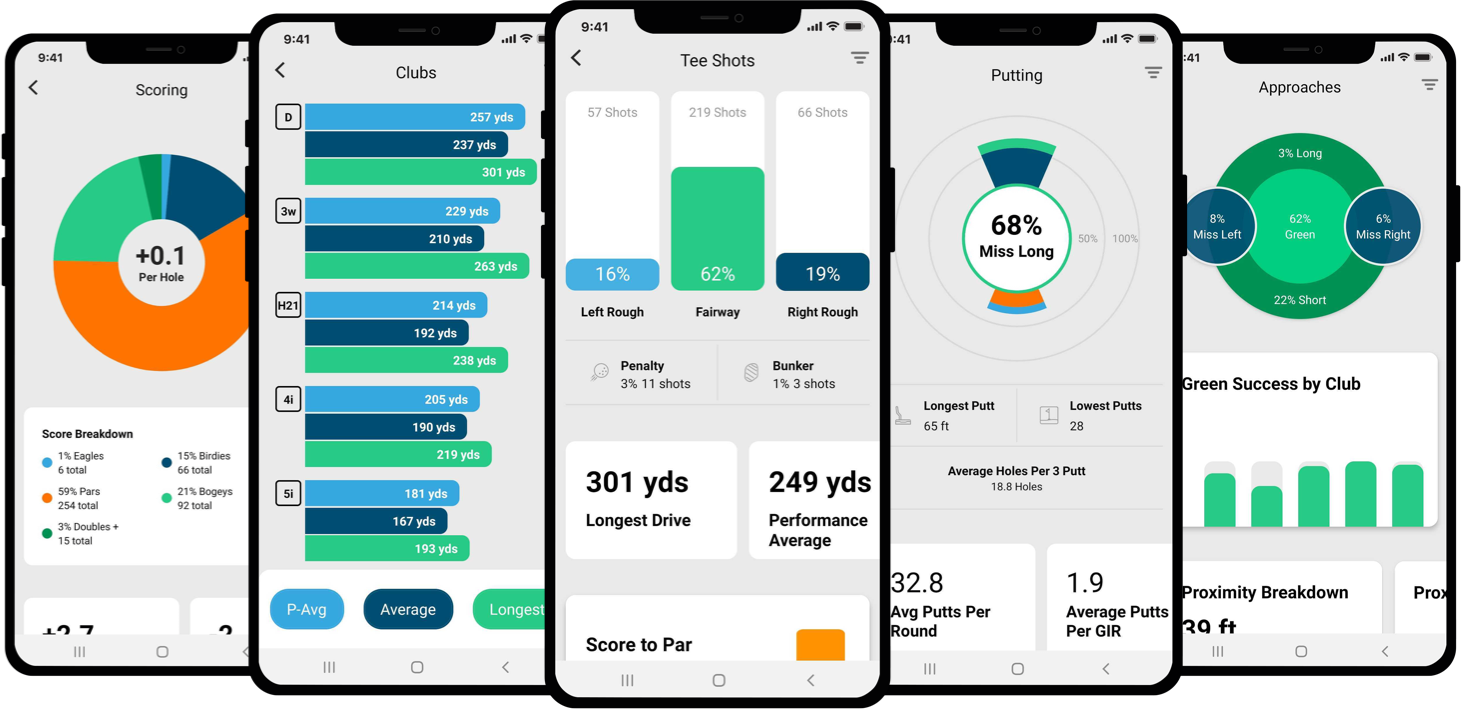 Furthermore, golf courses are typically dotted with long grass, sand, trees, water and other obstacles, making it impossible to see every shot. This is exactly where satellite imagery comes into play. An overhead view of the golf course allows players to examine the hole for all kinds of hazards. This also allows them to display their golf shots on the course map and to measure the distance left on their approach to the hole.
The Shot Scope's course map database includes 40 000 courses mapped metre by metre. Shot Scope does not not charge subscription fees for its platform. In order to guarantee a high level of course map accuracy the company sources satellite imagery from multiple suppliers, among which Google Maps. While these readily available data platforms do come with limited temporal resolutions, they are among the most widely-used services on the internet and allow for an easy access to high resolution satellite images free of charge.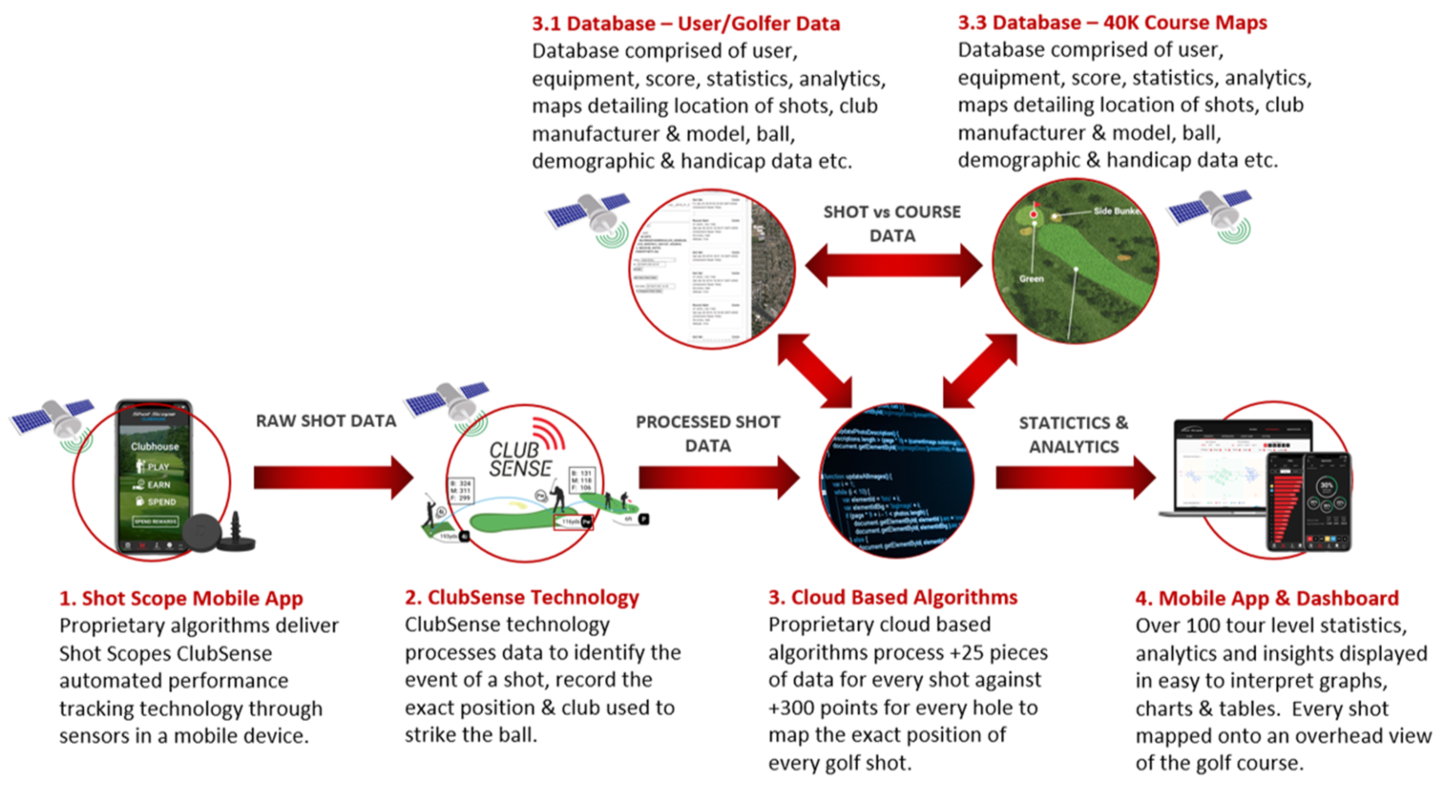 With this on-course device, players can now learn about their strengths and weaknesses in an instant. The product has already attracted a wide customer base, from 12-year-olds to the most experienced golfer. While the device has been used by professional golfers, it has also become an accessible tool for players on all levels, with over 90 000 users in 120 different countries.
Golf course management
Satellite data is not only being used by players in the golfing community. Golf course operators are becoming increasingly aware of the potential of satellite remote sensing to save water and energy while monitoring the health and status of the grass.
The Croatian startup E2O.GREEN by 3D EMS aims to offer golf course operators a solution for energy and irrigation management. Based on their previous experience in fire management and prevention, the company combines Earth observation (EO) and Global Navigation Satellite Systems (GNSS) data with imagery from drones and Internet of Things (IoT) sensors to generate real-time insights for golf course operators to monitor and optimise their courses' irrigation and equipment use.
Golf courses can stretch over thousands of hectares, and maintenance of the green surface means consuming a lot of water. Turfgrass irrigation is often deemed to be wasteful, however, expansive turf areas such as golf courses can serve as a practical environmental tool to reduce fire hazard. Apart from being a fire barrier, golf has even the potential to contribute to the EU goals on biodiversity and ecosystem preservation. Still, water is a precious resource and making efficient use of it is vital for the environment. For golf course operators, saving water could also imply saving considerable costs. In recent years, satellites have caught the eye of the greenkeepers, as effective means to monitor golf courses and spot those parts that need their attention most. It has not yet become a widespread solution, but E2O.GREEN is planning to change that.
The company is developing its own proprietary Artificial Intelligence (AI), based on leaf area index. The objective is to closely monitor the state of vegetation in order to get recommendations for irrigation and mowing coupled with seasonal predictions. The resulting precision irrigation will save time, as well as water and energy.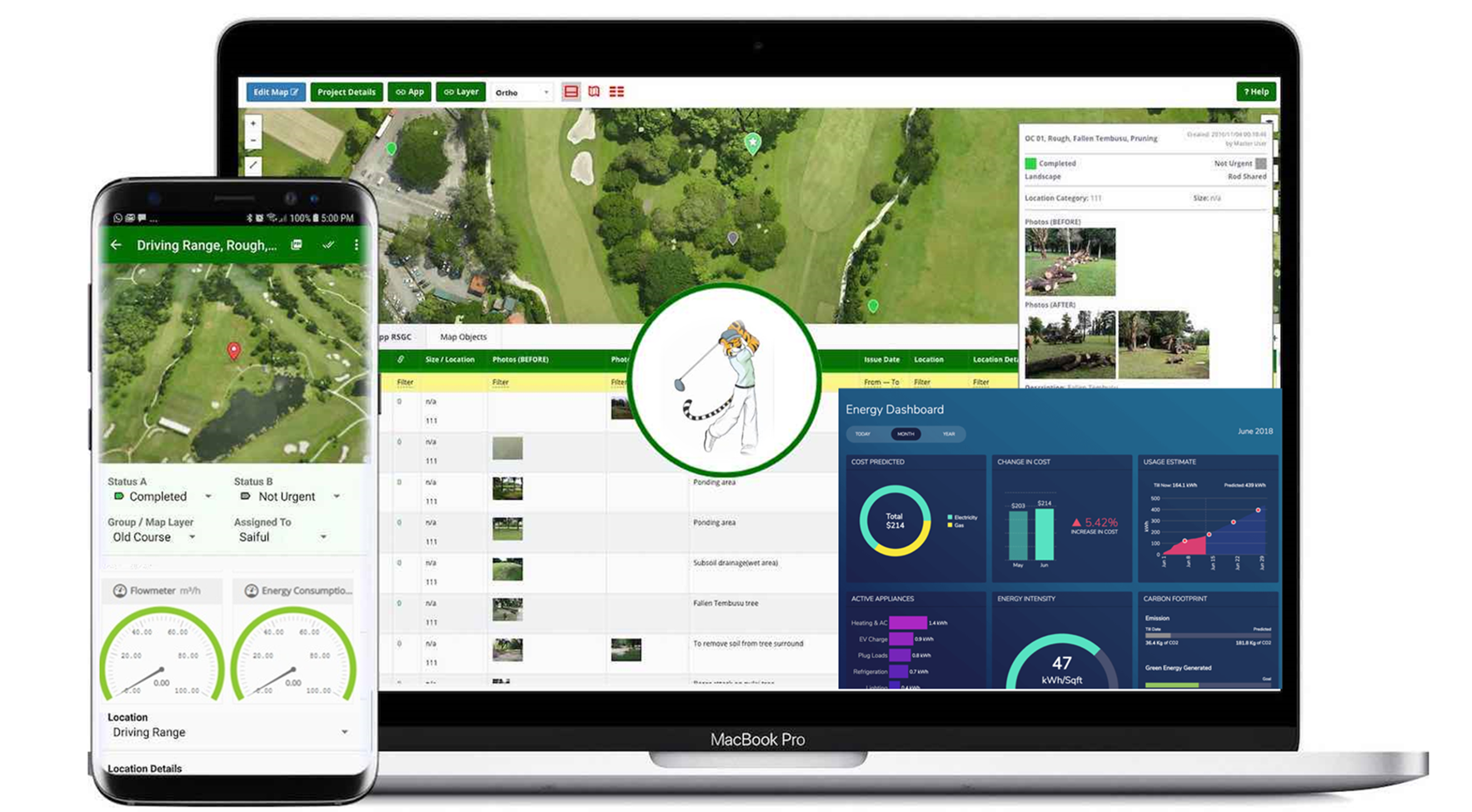 After a successful enrolment to the Copernicus accelerator, E2O.GREEN has laid the foundation for its business case. It foresees a subscription for the app and a success fee comprising a percentage of the cost savings. The business case may also expand beyond the golf market as it could apply to any other grass surface such as football fields and urban green spaces.
Furthermore, the Croatian startup is also planning to integrate a GNSS and IoT solution to track the position of every golf player. By attaching a small device to the maintenance equipment on the course, to golf carts, and to the equipment of players, golf course operators will be able to improve their customer experience. The solution could potentially eliminate bottlenecks during play. With a reward system for players taking the most optimal route where they do not hinder other players or damage the grass.
Apart from optimising the pace of play on the course, this could also improve the golfing experience by providing real-time information on wind speed, lightning alerts, choice of plays, appropriate clubs, and other course relevant information.
Satellite data for golf players and greenkeepers
As it turns out, both satellite navigation and Earth Observation are useful on the golf course.
Thanks to navigation satellites, players can make informed on-course decisions and improve their golf game with the resulting performance data. At the same time, EO satellites offer golfers the opportunity to scan treacherous holes from above.
Green surface management also benefits from EO data. Satellite images provide an easy overview on the health state of the turf. Especially when this can be combined with AI methods, any form of stress could be detected long before this could be observed with just the naked eye. This gives greenkeepers extra time to initiate any mitigation measures, but it also leads to considerable water and energy savings for golf course operators.