Rooting for Biodiversity: From monitoring alien plant species to detecting oil spills

Together with dotSpace, Eurisy has launched a new initiative called "Space Opportunities for Climate Challenges". The initiative offers a one-stop-shop platform to find relevant information, news, events, calls, partners and customers for space applications related to climate. Different stakeholders from research, government and industry are brought together on a monthly basis to share their innovative solutions and to discover new opportunities. This multidisciplinary setting also comes with an open networking and knowledge sharing platform where space and non-space peers can exchange ideas.
The first webinar took place on Wednesday 2 December, covering the topic of biodiversity and plant health. In less than one week the event attracted more than 100 registrations, with participants tuning in from all over the world. This indicates the high relevance of the topic. Indeed, biodiversity is being lost at an alarming rate and there has never been a more urgent need to restore damaged ecosystems.
"With our Space for Climate initiative we intend to rally all relevant stakeholders to invest in biodiversity and new approaches to speed up actions in the framework of the UN decade for restoration as well as within the Green Deal Biodiversity Strategy for 2030. The same year is also the deadline for the Sustainable Development Goals and the timeline scientists have identified as the last chance to prevent catastrophic climate change." – Corneel Bogaert, Eurisy Project Administrator
Register to Space for Climate to the watch the full webinar.
Satellite remote sensing is crucial to getting long-term global coverage. It can rapidly reveal where to reverse the loss of biological diversity on a wide range of scales in a consistent, borderless and repeatable way. Variables such as vegetation productivity or leaf cover can be measured across continents from space. Despite its great potential, satellite remote sensing is not integrated enough in today's governance.
"Bridging the gap between space and society is the mission which was given to Eurisy in 1989. Today this is still relevant as it is clear that space applications are perceived as difficult and hard to integrate in the daily workflow. Eurisy promotes satellite applications by showcasing experiences of early adopters using satellite solutions. We communicate about end-user needs, create networks between space-based organisations and professional communities, and we bring back the outcomes to policy-makers at any level." – Annalisa Donati, Eurisy Coordinator of Activities
During the webinar, the speakers presented different examples of how satellite data is and can be exploited for the benefit of biodiversity and plant health.
Plant health surveillance and monitoring invasive species
Baldissera Giovani, coordinator of Euphresco, discussed the potential of remote sensing to guide and instruct ground surveillance activities such as the early detection of plant stress. The full report is freely available, as well as the policy brief summarising the barriers that limit the uptake of satellite remote sensing. Open his presentation here.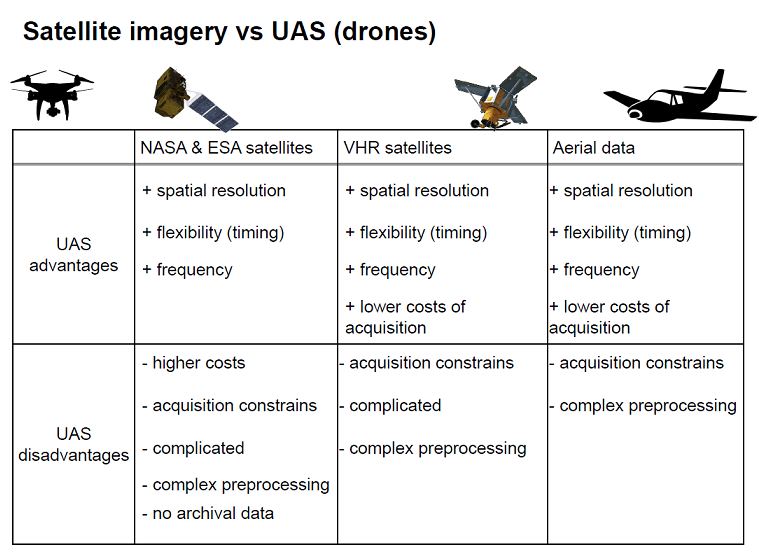 Jana Müllerová from the Institute of Botany of the Czech Academy of Sciences explained how plant invasion is being monitored with combined resources of remote sensing techniques. Her presentation including a comparison of satellite data, drones and aerial imagery is accessible here.
Detecting oil spills and oil palms
Cécile Renaud Business Developer at Aerospacelab, showed how satellite imagery can help to detect oil spills and illegal dumping in international waters. The very poisonous chemical constituents of oil affect organisms both from internal and external exposure. Regarding plants and algae, it prevents photosynthesis leading to the death of organisms. Learn more about how the company helps to detect these disastrous events here.
Iris van Duren, Assistant Professor at ITC-University of Twente and Education Coordinator of the WWF Regional Team Twente and Vechtdal, presented opportunities of Earth observation for biodiversity. For example, detecting land conversions into oil palm plantations replacing high conservation value forests and vulnerable habitats. This was further demonstrated with satellite images showing illegal oil palm plantations on river shores in Indonesia. Know more.
EU Green Deal
Marjan van Meerloo, Policy officer Earth Observation at the European Commission, gave some valuable insights into the European Green Deal. Find her slides and the presentation of the Biodiversity thematic area.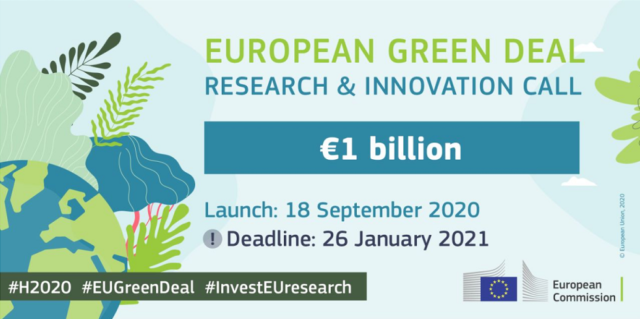 "It's not like any other calls we had. It's a lot of money, and only 20 topics distributed over 10 thematic areas. Do not look at just one area because they are a bit more overarching and cross-sectoral than normally."
One minute pitch
Linda Van Duivenbode delivered a pitch to take up contact with Earth observation companies moving from project stage to operational implementation in public authorities. She is investigating to start a buyer's group to involve public authorities interested in procuring services, and to bring them together in a learning network.
To apply for a one-minute pitch slot in our next webinar, simply tick the 'Pitch' box in the form to register!
Join us
If you would like to watch the full webinar and join the next sessions you can still register. From increased social awareness to more engagement with the private sector and policy support landscapes, there is a distinct need to build multidisciplinary collaborations. From business and government to research and education, we bring all stakeholders together to discuss space opportunities within European calls!
Find all presentations of the first webinar here.


Our mission is to diffuse space-derived innovation. We are always on the lookout for information about operational satellite applications. Send us your success story and we might showcase it!
Stay up to date about the latest space solutions with our newsletter.