Satellites Going Local 2016 – Public and Private Organisations share their Success Stories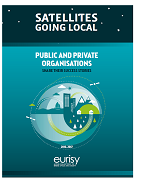 The 5th edition of Satellites Going Local collects testimonials from public and private organisations using satellite applications to improve their work and provide better services to the public.
For the non-space professionals they are intended to demonstrate, in a down-to-earth manner, how digital products and services that rely on satellite navigation, satellite communications and Earth observation, benefit professionals in all areas of activity.
Examples range from agriculture and environment, to risk management, to tourism and leisure, to infrastructure and building, to mobility and transport. To satellite professionals, they will offer insights into user needs, and possible business cases.