Mastering Europe's Space Capabilities

As part of the European Space Week 2020, the winners of the international innovation competitions the Galileo Masters 2020 and the Copernicus Masters 2020 were announced during the online Space Awards on 7 and 8 December.
Galileo Masters 2020
Galileo, Europe's Global Navigation Satellite System (GNSS) and the accurate, reliable positioning data it delivers will be an essential element in the uptake of autonomous vehicles such as cars, drones, or robots. The technology is not only omnipresent in the global transport sector, it also fulfils a key role in numerous others sectors, especially in healthcare given the current circumstances. Today, the widespread of GNSS-enabled devices such as smartphones and smartwatches enable us to locate distress calls for emergency interventions, but also give us access to fun and educational mobile apps. From sports performance monitoring to animal tracking, tourism, and many other applications you might not expect. While we have come to take it for granted, it is difficult to imagine the workings of our world without satellite navigation capabilities.
By fostering entrepreneurs and startups, the Galileo Masters' long-term objective is to strengthen Europe's competitiveness with high-tech space solutions on a global scale. This year's overall winner of the Galileo Masters 2020, Angsa Robotics, developed Germany's first autonomous trash collection robot "Clive". The robot gathers up minor rubbish left on grass or gravel that would otherwise cause ecological and economic problems. "Clive" can move independently, detect and localise individual objects based on its unique artificial neural network architecture. Individual objects such as crown caps or cigarette butts are targeted for collection, while insects are spared. Furthermore, since conventional sweeping machines designed for flat asphalted surfaces cannot be used, other types of areas typically have to be cleaned manually. Hence, "Clive" also creates an economic benefit for its customers. Its target use cases include the cleaning of festival venues after events and the daily cleaning of parks and other green spaces. Precise localisation via GNSS is essential to its operation. With better positioning, the robot can plan a more efficient path and clean a given area faster.
The Galileo Masters has given a significant boost to the rise of the GNSS industry in Europe:
Annual competition for satellite navigation applications
More than EUR 1 million worth of prizes
More than 13,000 Galileo Masters participants since 2004
Top 100 companies created more than 3,300 jobs
Generated EUR 178 million in total turnover in 2019
Raised around EUR 524 million in venture capital
Copernicus Masters 2020
Acting as "Europe's eyes on Earth", the Earth observation programme Copernicus provides open access to up-to-date information that can help better understand and sustainably manage our planet. Companies and entrepreneurs can benefit from vast amounts of data related to climate, atmosphere, land, marine, security, and emergency management in developing new solutions for global challenges.
Since 2011, the Copernicus Masters has been driving entrepreneurial talent and new business models that are needed to convert Earth observation data into sustainable services for a wide variety of industries. The international innovation competition awards prizes to outstanding products and services based on Earth observation data.
Reef Support is an automatic warning system that uses artificial intelligence and satellite imagery to detect coral bleaching, algal blooms, sediment plumes, and debris caused by humans. This pioneering technology was crowned the overall winner of the Copernicus Masters 2020. Reef Support addresses both the environmental and economic aspects at hand with state-of-the art technology. Its user-friendly online monitoring and maintenance tool combines artificial intelligence with satellite imagery to track coastal reef health and also provides guidelines for crowd and pollution control, debris management, and coral restoration. Different types of data can be combined to form a picture of reef ecology across a wide range of spatial and temporal scales. Its deep learning algorithm adapts to user applications and regional tendencies. The Reef Support platform can be used for strategic planning and resource management in aquaculture farming as well.
The Copernicus Masters has given a significant boost to the rise of the Earth observation industry in Europe:
Annual competition for commercial Earth observation applications
More than EUR 550,000 worth of prizes
More than 4,300 innovative ideas since 2011
Top 100 companies created more than 2,800 jobs
Generated EUR 153 million in total turnover in 2019
Raised around EUR 274 million in venture capital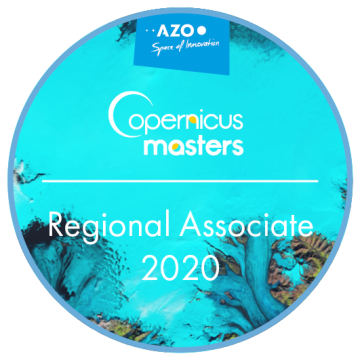 The Galileo and Copernicus Masters' close cooperation with institutional, industrial, and regional partners promotes the development of high-tech products and services for Europe on a global scale. Eurisy is proud to be a Regional Associate supporting the awarding of innovative solutions, developments and ideas that use Earth observation and satellite navigation data to tackle the challenges of today.
Join the community and contribute with your own ideas. Next year's submission phase starts on 1 April 2021!
Our mission is to diffuse space-derived innovation. We are always on the lookout for information about operational satellite applications. Send us your success story and we might showcase it!
Stay up to date about the latest space solutions with our newsletter.