World Esports Day: playing with space data

Esports or electronic sports is a collective term for organised competitive video gaming. Through sponsorships and increasing media coverage, the esports industry has been booming over the last few years. With the annual World Esports Day, the community aims to increase awareness of the positives of esports while raising money for charities around the world. On the occasion of this year's edition, which takes place on Saturday 23 October, Eurisy is taking a closer look at how satellite data can play a role in the gaming industry.
Space has always been an inspirational theme for gamers, but some developers are taking it a step further and rely on actual space data to create and play their game. Get inspired by our compilation of different use cases of satellite data for all sorts of gaming tools.
Combining 3D geospatial data with game engines
Within the gaming industry, the use of GIS provides a way to create hyper realistic game experiences. For example, Microsoft Flight Simulator uses images taken by the Sentinel-2 satellite in combination with Bing Maps data to generate the terrain and scenery objects over which its in-game aircrafts are flying.
Collaboration between geospatial and game experts are constantly pushing the boundaries of virtual environments. Platforms such as the Cesium for Unreal are now unlocking Geographic Information System (GIS) capability for game engines. It enables game developers to create digitalised worlds with real-world scale and 3D content. The ability to stream a full-scale virtual globe into game engines is also appealing to a number of other industries. For simulation experts, architects, urban planners, world heritage organisations, environmental scientists, and media and entertainment companies, among many others, this opens up a whole new world to run test scenarios in a digital twin of our planet.
In our database of success stories you can find this concrete example of how a product originally designed for the gaming industry became an urban planning solution by integrating GIS and spatial support to its 3D components.
Impact gaming
Satellite-based maps can become empowering instruments enabling collaborative decision-making. This concept is at the core of Participatory GIS or Public Participation Geographic Information Systems (PPGIS). The term refers to a participatory approach to spatial planning aimed at sharing spatial information and communications among people who share an interest on certain places and assets. There are many ways to engage communities and to produce this kind of crowdsourced data. Gaming is certainly one of them.
Through its game-based crowdsourcing platform Cerberus, Blackshore develops maps collectively produced by the players, who interpret satellite data and aerial imagery to extract information relevant to the topic of the game. By combining the principles of e-learning, gaming and crowd-sourcing, the platform provides a playful and stimulating environment for players to make useful operational maps for organisations such as governments, urban planners or emergency services. With topics ranging from forest monitoring to disaster relief and food security, the concept demonstrates how human capital from the game industry can be applied for societal benefit. Read the success story here.
Game-based learning
Simulation gaming is an excellent communication and learning tool for planning, decision-making, learning and education. With today's technology, a combination of multiple data sources can infuse engagement into digital worlds, which are full of complexity and becoming increasingly realistic.
The Maritime Spatial Planning (MSP) Challenge is a multi-user client server application with the aim to educate the next generation of maritime spatial planners. Based on the actual sea basin of the North Sea, the MSP map offers multiple layers of information, such as wind speed, wave height, and sediments, derived from Earth observation satellites and other in-situ data. The map also displays the location of current offshore windfarms and shows where new windfarms are being considered for development. It offers a simulation model calculating the energy production and the infrastructure (e.g. cables and landing stations) needed to get the maximum capacity of the windfarms to the energy grid.
Using advanced game technology and game thinking, the MSP Challenge creates an environment for stakeholder engagement, co-design planning, and education. The app allows students and young professionals to draw offshore planning for windfarms in order to experience the real-life strategic behaviour of decision-makers and stakeholders.
For another example of game-based learning, have a look at this success story of the Education Department of the City of Helsinki.
Digitalisation and gamification
Satellite services can play an important role in the digitalisation of industry and society. For example, to overcome the mass cancellation of events during the pandemic, gamification and digitalisation have been largely deployed, and these have been often powered by satellite-based services.
For cyclists, there are numerous platforms offering gamified virtual courses based on iconic roads and climbs. Thanks to satellite navigation data, exact gradients and road profiles of real-world locations can be replicated. When paired with a smart trainer, the resistance perceived by the cyclist changes based on the terrain, simulating the feeling of riding in the real world.
Additionally, satellite imagery can also help to make the 3D-generated landscape more realistic, as well as to track the progress of riders on the real-world circuit. The experience of the digital Tour of Flanders proved to be successful in targeting a younger audience, offering challenges all year round on the Proximus Cycling eSeries platform.
Satellite navigation is also a great tool to create real-world games. This use case of the Loquiz app shows how engaging games can be easily customised for any type of event, just by using a smart device with an embedded SatNav system to keep track of participants' movements and scores.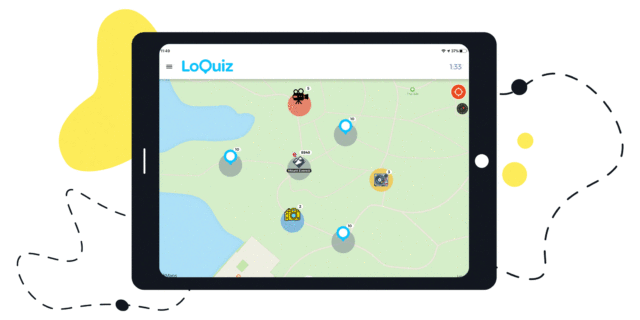 For a similar example on city games, check out this success story on how satellite positioning can enable people to discover cities and do team-building activities in an innovative way.
Tourism
In the cultural sector satellite data can be utilised to better manage tourist flows and even to enrich their experience.
In Florence, The Economic Activities and Tourism Department aims to mitigate overcrowding by guiding tourists towards alternative thematic itineraries. To this end, it launched Firenze Game, a mobile app combining digital gaming and city tours. The app aims at stimulating players to learn more about the city while supporting the need of the Municipality to delocalise tourists from major attractions.
The Firenze Game relies on satellite navigation to guide young players (and their families) through different itineraries, challenging them to look closely at Florence's hidden beauties and less known stories. Players can create their avatars and get a set of cards, which are automatically unlocked through geo-located check-ins. While moving around, the players can gain new cards by localising themselves close to squares, monuments and museums. The more unknown or remote a location is, the more the value of the cards to be collected increases.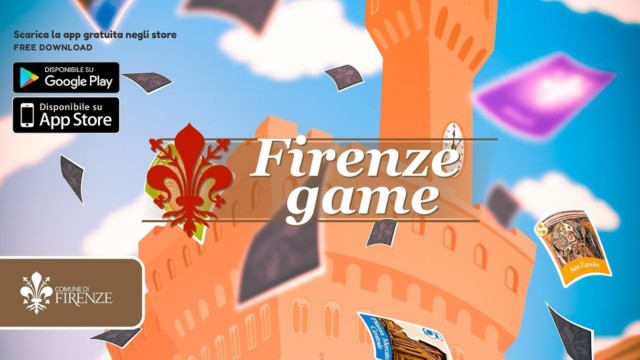 Another example is the interactive game the Grand Palais in Paris. The game is based on a map on which different points of interests are geolocated and associated with quizzes, pictures and videos. Participants are given a tablet with a built-in GNSS sensor and are asked to find the points of interest in order to complete the highest number of challenges in a given time.
Virtual and augmented reality
As seen in the use cases above, real-world games often entail augmented reality (AR). AR actively works with the user's circumstances, superimposing digital information directly on real objects. The game Pokémon Go is using this to great effect. It offers a game experience spanning real-world global terrain, not only linking wild Pokémon but also advertising to actual locations.
Another technology often associated with AR is virtual reality. With the Space Service Hub, Eurisy will be relying on this nascent technology to bring space solutions to our audience in an engaging way. The Space Service Hub will be an immersive platform featuring a 3D web platform and a virtual reality environment to be presented at ESA or Eurisy roadshows, booths, and international events and fairs. Avoiding technical jargon and with a strong focus on the use and benefits, you will have the opportunity to learn with your own eyes how satellite applications tackle today's challenges.
The virtual reality environment will be brought to our audience for the first time at the upcoming IAC. We hope to see you in Dubai!
A whole new universe on the touch of a finger
The rapid advancement in performance of mobile devices has opened up to a lot of new opportunities. From loading satellite maps and in-built SatNav systems to mobile networks supported by satellite communications, modern-day devices can do it all. As illustrated by the diverse use cases above, making use of this technology through gamification can be a great way to get to niche markets and to engage communities that would otherwise not be reached.